Tigers Battle Back But Fall Short in Football Playoff Game, 49-39
November 21, 2009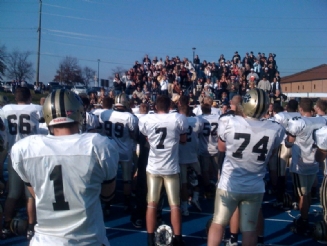 November 21, 2009, Crestview Hills, Ky. — A courageous second half comeback came up short this afternoon as DePauw University's football team lost to #10 ranked Thomas More College in the NCAA Division III playoffs, 49-39. The setback ends DePauw's season with a 7-3 record; the Saints improve to 11-0 and advance in the playoffs. (at left: Tiger players sing Here's To DePauw to their fans after today's game)
The hosts built a 28-10 halftime lead but the Tigers roared back
after the break. Trailing by just 3 points with about two minutes left to go in the game, DePauw turned the ball over on a forced fumble at the Tigers' 20 yard line, a turnover that led to a touchdown, making it 49-39.
But DePauw never quits. Senior quarterback Spud Dick (pictured at right) marched the team down the field and had Thomas More backpedaling until an interception at the Saints' 5 yard line iced the outcome.
Dick, DePauw's all-time passing leader playing in his final game, connected on 35-of-59 passes for 318 yards, with four touchdowns and three interceptions. Alex Koors caught 9 passes for 71 yards and a TD. Brayden Dahlstrom and Bryan Mulligan each grabbed 8 receptions and a touchdown apiece. Nathan Evans caught 4 passes, one of them for a score.
The Tigers rolled up 373 yards of total offense, 23 more than the Saints.
For comprehensive coverage of today's game, visit the team's Web page.
Orders are being accepted for the limited edition DVD of the 116th Monon Bell Classic, which is currently being manufactured and should ship in early December. Details and an online order form can be found here.

Back