Robby Long Officially Named Tigers' Head Football Coach
November 24, 2009
November 24, 2009, Greencastle, Ind. — Robby Long, who served as DePauw's interim head football coach during the 2009 seaon, today had the term "interim" removed from his title and was officially named head coach.
In announcing the move, Page Cotton, director of athletics at DePauw, stated, "Robby has done a marvelous job with our football program in a short period of time, and not only in terms of what's happened on the field. He is very clearly respected and admired by his players and fellow coaches. As a historic season for DePauw football drew to a close Saturday, we took great pride in this group of men for the way they have comported themselves on the field of play, in the classroom and throughout the campus community."
Long, who turned 30 on Sunday, took over as interim head football coach on
August 7, 2009. He had spent the previous five seasons as an assistant coach at DePauw, including the last three as the Tigers' assistant head coach and defensive coordinator. He also serves as DePauw's director of student athletic recruitment.
Long led the Tigers to their first-ever appearance in the NCAA Division III playoffs. The black and gold battled #10 Thomas More in Kentucky Saturday, but came up on the short end of a 49-39 score and ended the 2009 season with a 7-3 record.

[Download Video: "Tigers vs. Thomas More" - 6821kb]
This year's football team broke single-season school records for pass completions, passing yards, passing yards/game, pass completion percentage, total offense yards, total offense yards/game and first downs. The 2009 Tigers established new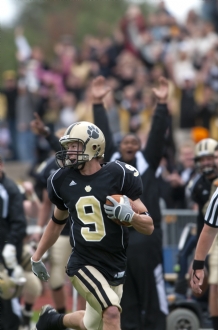 single-game records for total offense yards and passing touchdowns and tied the single-season record for passing touchdowns.

Through the first round of NCAA playoff competition, DePauw is ranked 8th in Division III passing offense, 11th in fewest sacks allowed, tied for first in fewest fumbles and second in average time of possession.
In prior seasons, when Long was an assistant coach, the Tiger defense ranked 26th in NCAA Division III in interceptions in 2007, 30th in sacks per game and 47th in rushing defense, while the 2006 squad was 31st in sacks and 40th in both interceptions and pass efficiency defense rating.
In the two seasons prior to coming to DePauw, Long served as a graduate assistant on the defensive line at the University of Illinois. He assisted the defensive line coach in planning and conducting practices in addition to organizing and coaching the defensive and special teams scout teams.
A native of Champaign, Illinois, Long earned a bachelor of science of applied life degree from the University of Illinois where he was a three-year varsity letterman for the Fighting Illini. Long played on the 2001 outright Big Ten champion squad
that finished with a 10-2 record and competed in the 2002 Sugar Bowl. He also played on the squad that won the 1999 Micron PC Bowl and finished with an 8-4 record. Long was the team's defensive player of the week after the California game in 2001.
In the summer of 2006, Long served as an assistant coach with the Chicago Bears as part of the National Football League's Minority Coaching Fellowship Program.
Today's announcement is also noted at the Web site of the Indianapolis Star.
For comprehensive coverage of the Tiger football program, visit the team's official online page.
Back