NFL's Belichick Made the Right Call, Says Upcoming Ubben Lecturer Steven Levitt
November 19, 2009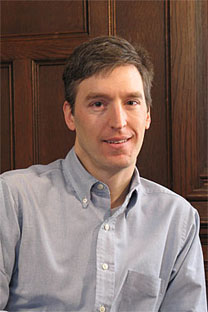 November 19, 2009, Greencastle, Ind. — "A decision by New England Patriots coach Bill Belichick that cost his team a win over undefeated Indianapolis earned him the praise of Freakonomics co-author Steven D. Levitt, who said the call probably was the right one," begins a Bloomberg News article. Levitt will come to DePauw University on Monday, November 30, to discuss his new book, SuperFreakonomics: Global Cooling, Patriotic Prostitutes, and Why Suicide Bombers Should Buy Life Insurance.
In the November 15 game, Belichick -- whose team was leading 34-28 with 2:08 to play -- opted not to punt on 4th and 2 from his own 28 yard line. The Patriots were unsuccessful in getting a first down, turned the ball over, and the Colts mounted a game-winning drive. Analysts and fans have been questioning the call ever since.
Michael P. Regan and Eric Martin write, "Statistical analysis suggests that the 57-year-old Belichick made the right decision, according to Levitt, a University of Chicago economist whose 2005 book Freakonomics: A Rogue Economist Explores the Hidden Side of Everything applies economic theory to topics from drug dealing to cheating among sumo wrestlers. He wrote the book with journalist Stephen J. Dubner ... Levitt cited a study by David Romer, professor at the University of California-Berkeley, which said coaches often get too conservative on fourth downs. In an analysis of more than 700 regular-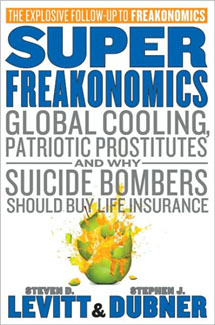 season NFL games from 1998 through 2000, teams had 1,068 fourth downs where averages suggest they would have been better off going for a first down. They kicked in 959 of those situations, according to Romer's study."
As Levitt noted on his New York Times blog, "So hats off to Bill Belichick. This decision may have hurt his chances for the Football Hall of Fame, but it guarantees his induction into the Freakonomics Hall of Fame."
Read more at Bloomberg's Web site.
Steve Levitt is the William B. Ogden Distinguished Service Professor of Economics at the University of Chicago, where he directs the Becker Center on Chicago Price Theory. His DePauw speech will begin at 7:30 p.m. in Kresge Auditorium of the Green Center for the Performing Arts. Like all Ubben Lectures, the program is free and open to all. Seating is general admission and no tickets are required.
A book signing session will follow the speech.
Learn more about Dr. Levitt and his upcoming DePauw visit in this previous story.
He appeared on The Daily Show with Jon Stewart on October 27.
Back