Alex Koors Named SCAC Offensive Player of the Year; Robby Long is Top Coach
November 24, 2009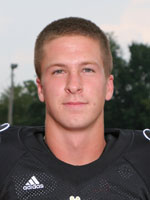 November 24, 2009, Greencastle, Ind. — Junior wide receiver Alex Koors (pictured at left) has been named the Southern Collegiate Athletic Conference Offensive Player of the Year, while his head coach at DePauw University, Robby Long, is the SCAC Football Coach of the Year for 2009. The results of exclusive voting by the head coaches of the conference was announced today as the All-SCAC Team was named.
Thomas Wrona, a junior defensive back, received a first place vote for Defensive Player of the Year, which was won by Will Hawkins of Millsaps College.
Besides Koors, seven other Tigers were All-SCAC first team selections: quarterback Spud Dick, guards Lewis Brown and David Joeckel, wide receiver Bryan Mulligan, defensive end Alex Fitch, and outside linebackers Ryan Preuss and Kyle Scherer.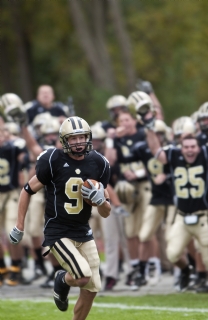 The second team includes six from DePauw: wide receiver Brayden Dahlstrom, tight end Mark Branigan, placekicker Jordan Havercamp, defensive tackle Tyler Doane, and defensive backs Thomas Wrona and Jon Lambert.
Tigers receiving honorable mention include tackle Paul DePoy, running backs Jon Ellis and Derrick Karazsia, fullback Anthony Meek and defensive end Ryan Woodard.
"Koors, a 6-2, 168-pound junior receiver from Indianapolis, Ind., set the DePauw single season receiving yards mark this season with 1,266 yards -- the third highest total in SCAC history," notes the conference's announcement. "His 73 receptions this year places him in a tie for the ninth-most in a SCAC single season and his 13 receiving touchdowns are tied for the fourth-most. Currently ranked third in the nation in receiving yards, Koors had two 200+ yard receiving games this season (212 yards vs. Millsaps and 209 yards vs. Anderson). He is the first conference receiver to post two 200+ yard receiving games in a single-season since David Crowley of Centre in 2004. For his career and with a year still remaining in Greencastle, Koors is already ranked in the league's all-time top 10 for career receptions (169 - 10th), receivinge POTY voting with Chris Baer of Trinity University and Shane Bowser of Millsaps College receiving one vote each." yards (2,595 - fifth) and receiving touchdowns (26 - fifth) ... Koors received six votes in the Offensive POTY voting with Chris Baer of Trinity University and Shane Bowser of Millsaps College receiving one vote each."
The announcement also notes, "After guiding DePauw to a share of its third SCAC football title and the program's first-ever
NCAA playoff appearance, Robby Long was selected by his peers as SCAC Coach of the Year. Long, who turned 30 on Sunday, took over as interim head football coach on August 7. He had spent the previous five seasons as an assistant coach at DePauw, including the last three as the Tigers' assistant head coach and defensive coordinator. Long led the Tigers to their first-ever appearance in the NCAA Division III playoffs. DePauw battled #10 Thomas More in Kentucky Saturday, but came up on the short end of a 49-39 score and ended the 2009 season with a 7-3 record. Long had the 'interim' tag removed from his title on Tuesday and was officially named head coach. Long captured five votes in the COTY balloting. Mike DuBose of Millsaps, Andy Frye of Centre and Steve Mohr of Trinity received one vote each."
Read more by clicking here.
Learn more about the 2009 DePauw team at the official home of Tiger football.
Orders are being accepted for the limited edition DVD of the 116th Monon Bell Classic, which is currently being manufactured and should ship in early December. Details and an online order form can be found here.

Back