Lee Hamilton '52 on 'Indiana All-Political Basketball Team'
November 29, 2009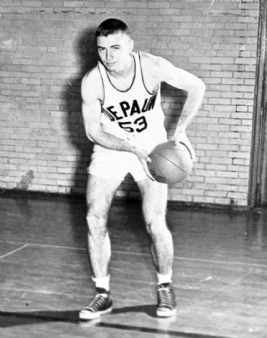 November 29, 2009, Greencastle, Ind. — Lee H. Hamilton, the veteran statesman and 1952 graduate of DePauw University, is among those on Brian Howey's "Indiana All-Political Basketball Team." Howey, a political analyst, links politics and hoops in his weekly column, which is published in a number of Indiana newspapers.
"The congressional Democrat was a two-year starter for Evansville Central High School and as an all-star led his team to the 1948 Final Four, winning the Trester Award," Howey writes. "Hamilton went on to be a four-year starter at DePauw. He was elected to Congress in 1964."
Howey writes, "After U.S. Reps. Baron Hill and Brad Ellsworth played a pickup game with President Obama, I thought it would be fun to ponder the link between athletic prowess and how it transfers to political power. I came up with a list of 11 players and one fabled coach who entered the political arena. It's relatively rare for basketball fame to translate to political fortune, but here are 12, who tried, with some succeeding." (at right: Iraq Study Group co-chairs Hamilton and James A. Baker III with President George W. Bush)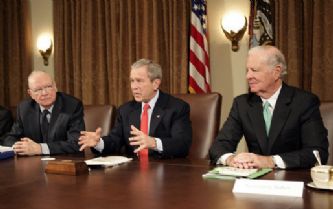 Read more at the Web site of the New Albany Tribune.
Hamilton served 34 years in the U.S. House of Representatives and co-chaired the 9/11 Commission and Iraq Study Group. He is president and director of the Woodrow Wilson International Center for Scholars and director of the Center on Congress at Indiana University. He recently authored Strengthening Congress. Newsweek has called him "Mr. Integrity," while the New York Times' David Brooks opined of Hamilton, "The country is hungering for leaders like him: open-minded, unassuming centrists who are interested in government more than politics."
Back