Where's the Outrage Over Study on Women & TV Violence?, Prof. Jeff McCall '76 Asks
November 29, 2009
November 29, 2009, Greencastle, Ind. — "You might think any community would be outraged to discover that violence against its women had more than doubled during a five-year period," writes Jeffrey M. McCall, professor of communication at DePauw University, in Connecticut's Hartford Courant. "Our nation has seen such an increase in the electronic community created by television, but no outrage has yet materialized. The results of a study by the Parents Television Council, which focused on the storylines of prime-time television and the portrayals of victimization and violence against women, show a 120-percent increase in such portrayals in the past five years."
Dr. McCall notes that each of the big four networks registered increases in portrayals of violence against women during the study's span. "Much of the overall increase involved violence against women by intimate partners. In addition, the violent incidents portrayed against women on television are increasingly graphic."
According to the professor, who is a 1976 graduate of DePauw, "For years, media critics have described television as a cultural legitimizer. At some point, what is seen on television becomes normative. Studies consistently show that media consumers who view televised violence become desensitized to it. This trend is particularly evident for younger viewers."
However, "Instead of viewing the council's data as a disturbing cultural trend, however, the media industry dismissed the study and blamed the messenger. TV Watch, a lobbying organization funded by big media corporations, accepted zero responsibility for mediated storylines involving violence toward women. Instead, TV Watch issued an official statement criticizing PTC for 'trying a new angle in its efforts to expand government control over what Americans choose to watch on television.' Translated, this means that a citizens' organization should shut up about media content and leave big media corporations as the sole deciders of what is culturally acceptable. For an organization that supposedly promotes the First Amendment, TV Watch has little tolerance for opposing messages."
McCall concludes, "How nice it would be if TV Watch expressed even the slightest concern for the cultural implications of television in our society. If TV Watch thinks televised violence is of no consequence to our culture, then let's see their research studies or hear their arguments. To angrily dismiss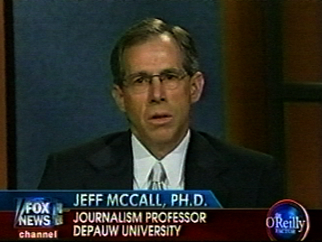 the legitimate research and concerns of a citizens organization tells a lot about what the networks think of us, the viewing public."
You'll find the complete essay at the Courant's Web site. It's also been posted at College News.org.
Jeff McCall is author of Viewer Discretion Advised: Taking Control of Mass Media Influences and is frequently called upon as an expert on media matters. He has been cited in articles published by approximately 100 newspapers, including recent writeups in USA Today, ABC News, Canada's National Post, the Dallas Morning News, and he was quoted in a New York Times article on CBS anchor Katie Couric.
Source: Hartford Courant
Back