Mobile Web Technology is "Driving Unprecedented Change," Says Mary Meeker '81
December 1, 2009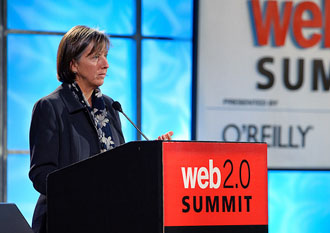 December 1, 2009, Greencastle, Ind. — "Ready or not, the era of the mobile Web is upon us," begins a story in Rhode Island's Providence Business News. "Fueled by the success of Apple Inc.'s iPhone -- and new competitors like Motorola Inc.'s Droid and Palm Inc.'s Pre -- the number of people accessing the Internet using a cell phone or other portable gadget is growing 'explosively,' according to Mary Meeker, an influential technology analyst at Morgan Stanley." (photo: James Duncan Davidson)
The article opens by summarizing the presentation Meeker -- a 1981 graduate of DePauw University -- made at October's Web 2.0 Summit in San Francisco. Ted Nesi writes, "About 57 million people have bought an iPhone or its phone-less cousin, the iPod Touch, since they went on sale in 2007. To put that number in perspective, the two pioneers of the PC-based Internet, AOL and Netscape
Navigator, had eight and five times fewer users respectively after the same amount of time on the market, Meeker said."
Meeker says many are overlooking the opportunities mobile Web technology will bring to business, and says the technology already is "driving unprecedented change in communications and commerce."
Read more by clicking here.
Mary Meeker serves as leader of Morgan Stanley's global technology research team, co-covering U.S.-based internet and consumer software companies. She was an early and consistent believer in online opportunities and has been called "Queen of the Internet." After earning a B.A. from DePauw, where she majored in psychology, Meeker received an M.B.A. in finance from Cornell University.
Back