Former VP Dan Quayle '69 Spends Day with DePauw Students
November 8, 1995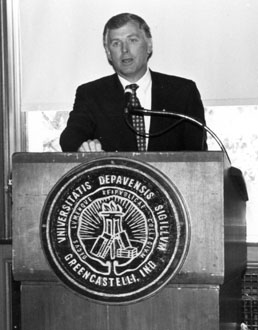 November 8, 1995, Greencastle, Ind. — Dan Quayle discussed the state of the world, family values and the Monon Bell rivalry during a lecture at his alma mater today. America's 44th Vice President, a 1969 graduate of DePauw University, spoke three days after the assassination of Israeli prime minister Yitzhak Rabin. Before Quayle's speech, the standing room only crowd in Kresge Auditorium observed a moment of silence in Rabin's memory.
"He was a person that clearly had the moral authority and the political determination and will to move the peace process forward and take a risk for peace," Quayle told the crowd. "The world that we live in, contrary to what we want to believe, is a dangerous place."
The former U.S. senator and congressman added, "The world that we have today is one that needs to have a strong American presence. As Americans we do have an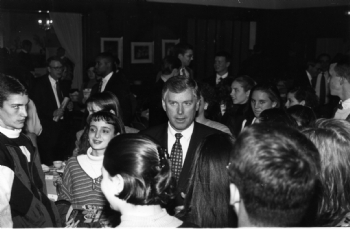 inordinate amount of influence, and with that influence comes responsibility."
Quayle expressed concern about the proliferation of nuclear weapons. "Someday someone somewhere is going to us one of those things," said the man who served as second-in-command to President George H.W. Bush. "Our administration wasn't very good at dealing with it, and neither is this one."
With the annual Monon Bell game 72 hours away, Quayle stated, "Let us turn to the domestic agenda. Beat Wabash."
A member of the Tiger golf team during his undergraduate days, Quayle had a message for the current student body. "What DePauw does for you, with the liberal arts, it gives you a good foundation and it opens a lot of doors."
Quayle, whose book Standing Firm: A Vice-Presidential Memoir, was published last year, says he is steering clear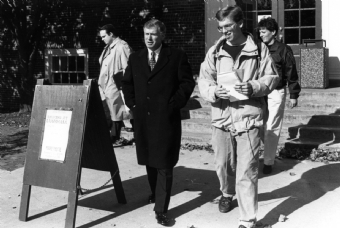 of endorsing a candidate for president in the 1996 race for now. But he told the DePauw audience, "In 1996 I think you will see more emphasis on values. When I speak of values, I am speaking of issues of crime, education, welfare, preferential treatment in our society. People need to be told what is right and what is wrong."
The former vice president's day included a talk at the Center for Contemporary Media, an interview with student radio station WGRE, and a luncheon with DePauw students. He also met with members of the faculty. It marked his first visit to campus since receiving the McNaughton Medal for Public Service five years ago.
Back