Former VP Dan Quayle '69 Discusses Health Care Reform and Afghanistan
December 2, 2009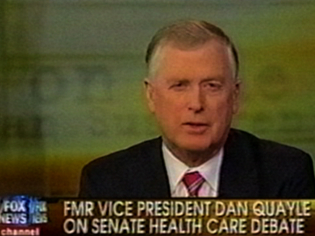 December 2, 2009, Greencastle, Ind. — Dan Quayle, the 44th Vice President of the United States and 1969 graduate of DePauw University, believes it's likely some version of health care will be approved by Congress. Appearing tonight on FOX News' On The Record With Greta Van Susteren, Quayle stated,

[Download Video: "Dan Quayle '69 on Health Care Reform" - 4327kb] "There's a possibility that it never gets out of the Senate. But I think there's a strong interest, particularly with the Democrats, to get something through, just move the process on. It's going to be fairly challenging."
He added, "I think looking back on it, the one mistake that the (Democrats) will recognize is they never really made any attempt to bring Republicans in." According to Quayle,

[Download Video: "Finding Middle Ground" - 5001kb] "When you get into major pieces of legislation like this ... you usually have to have bipartisan support. And this time they basically let the Democrats in Congress write the bill, the administration sort of took a hands-off position. And if you let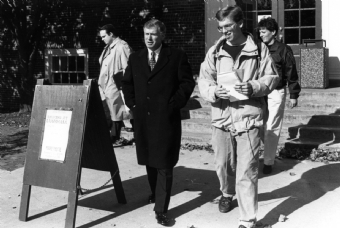 the Congress and the Democrats in Congress write the bill, there's such a partisan atmosphere up there it's very difficult for them, unfortunately, to reach across the party lines and do it the way it should be done." (at right: Quayle visiting DePauw on November 8, 1995)
But Quayle predicted, "You will see bipartisan support for the increase in funding for the war in Afghanistan." He called President Obama's announcement that the U.S. will send 30,000 additional troops to that country "a strong speech ... He sounded very much like a president."
The man who served as second-in-command under President George H.W. Bush says the situation in Afghanistan is "tougher than Iraq. Let's put it in perspective -- Iraq at one time was actually a functioning government, it was a real state. Afghanistan is not Iraq. It's tribal, it's got a number of different sects, you never really had a solid government there running the country there on any kind of continuing basis. And (Obama) indicated nation building.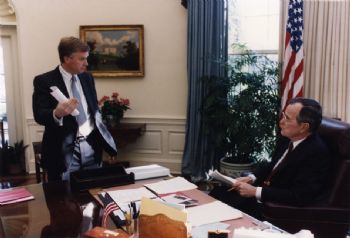 Well, to rebuild the nation of Afghanistan is going to be more difficult than rebuilding the nation of Iraq."
Quayle says the troop increase is necessary and vital to America's national security because of Afghanistan's proximity to Pakistan.
During the interview, Quayle -- who was elected to two terms each in the U.S. House of Representatives and Senate -- admitted that he missed public life.

[Download Video: "Eyewitness to History" - 5109kb] "Well, the atmosphere is more partisan" today than it was when he was in Washington, the former vice president noted. "There's probably more bickering and not a willingness to be collegial and to try to get things done. But I miss the debate, I miss the discussion of policies, I miss making decisions and helping the president make the decisions that have humongous impact. When I was vice president, seeing that Berlin Wall come down, and seeing the Soviet Union begin to disintegrate, and Eastern and Central Europe achieve democracy and freedom, and apartheid eliminated in South Africa, and jobs being created in the United States -- I was right there with George Bush and it was a great four years. And I wish we would have had another four years, but the American people thought otherwise."
The complete interview can be seen in two parts by clicking here and here.
Dan Quayle is currently chair of the international division of Cerberus Capital Management and president of Quayle and Associates. In August, he offered his thoughts on the passing of his former senate colleague Edward M. Kennedy, with whom he co-authored the Job Training Partnership Act of 1982. Read more in this article.
A member of DePauw's Athletic Hall of Fame, Quayle captained the Tiger golf team and was among the former players of Ted Katula who honored the retired coach at the November 12, 2005 announcement of a new endowed chair, the Theodore M. Katula Director of Athletics.
Back