Recipe of Ginny Colten-Bradley '74 is Prize Winner
November 26, 2009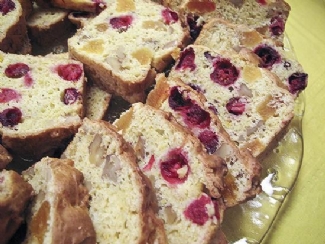 November 26, 2009, Greencastle, Ind. — Virginia "Ginny" Colten-Bradley, a 1974 graduate of DePauw University, is among the winners of the 2009 Suburban Journals Holiday Recipe Contest. The publication, which serves the St. Louis metropolitan area and surrounding Missouri and Illinois counties, gave Colten-Bradley the top prize in the "Bread Bites" category for her Gluten-free Cranberry Orange Bread. (at left: the winning entry)
"The judges -- chefs Lucy Schnuck and Nathaniel Bonner of the Schnucks Cooks Cooking School and Steve Ryan, store manager of the new Schnucks Des Peres -- were surprised that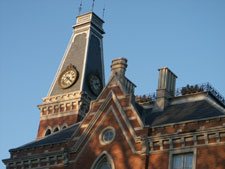 a gluten-free bread could taste so good," writes Shawn Clubb. "Colten-Bradley explained that she began working on gluten-free recipes when her daughter, Ana Bradley, was diagnosed six years ago with celiac disease. People who have this autoimmune disorder cannot eat gluten or other proteins found in certain grains."
"Making gluten-free is really challenging," Colten-Bradley, a former member of DePauw's Alumni Board, tells the newspaper. "It can taste gummy and not have the same feel in your mouth."
Access the article at the Journals' Web site.
Back