Ian Daniel '04 Hoping to Create 'Air Ship City' in Big Apple
November 8, 2009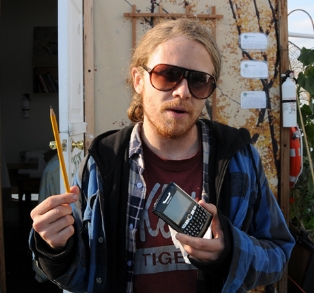 November 8, 2009, Greencastle, Ind. — "It's about wild architecture and following flight patterns and getting away from the smog," Ian Daniel, a 2004 DePauw University graduate, tells the New York Times of a "Air Ship City." Daniels and Mary Mattingly -- who created the "Waterpod," an eco-art-barge that floated around New York City -- are proposing the creation of a sustainable living and event space atop the seven-story Metropolitan Exchange Building.
Melena Ryzik writes, "The plans for the structure include a chicken coop -- the barge, the Waterpod, was home to four chickens -- a research lab, hanging gardens, potential living quarters (called the Flock House) and a communal area featuring outdoor
couches that Ms. Mattingly envisions as a sort of human nest."
"There are all these people in the building, so we wanted to create a space where they can all hang out," Daniel tells the Times. He adds, "It'll be like the Waterpod on the land, but living in the sky," exploring "environmentally, what that means."
Read more here, or in a Brooklyn Paper article.
Back