Tigers Begin SCAC Play with Win at Rhodes; Fenlon Notches 400th Career Win
December 4, 2009
Follow DePauw Athletics on Twitter | Become a Fan of DePauw Athletics on Facebook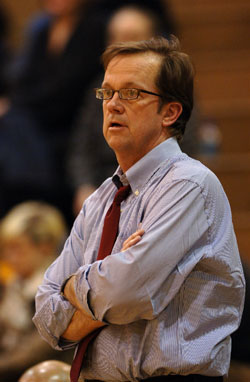 December 4, 2009, Memphis, Tenn. — Steve Lemasters scored 23 and David Gray posted a double-double of 11 points and 10 rebounds as DePauw posted an 86-64 win at Rhodes in the Southern Collegiate Athletic Conference opener for both schools.
The win was also the 400th career victory for DePauw head coach Bill Fenlon (right) who is in his 25th season at the collegiate level. Of that total, 293 have come in 18 years at DePauw.
The victory also lifted DePauw's record to 5-0 for the first time since the 2001-02 seasons, while Rhodes dropped to 3-4 with the loss.
Rhodes held a 30-27 lead with just over four minutes left in the first half, but the Tigers went to the break with a 38-37 advantage.
The Tigers scored the first 11 points of the second half and the Lynx got no closer than nine the rest of the way.
Lemasters' 23 points were a season high and included 6-of-14 shooting from three-point range. Gray's double-double was the first of his career and Tony James matched a career-high with eight assists and five steals.
Larry Cunningham paced Rhodes with 15 points, while Reid Hamilton and Kory Kilpatrick each scored 13. Kilpatrick grabbed eight boards and Andyshea Saberioon dished out six assists.
Both teams shot 50.0 percent from the floor, but the Tigers made seven more field goals and hit nine three-pointers.
DePauw travels to Birmingham-Southern for a 2 p.m. CST game on Sunday.
Back