20th-ranked Women Split SCAC Weekend after Loss to Panthers
December 6, 2009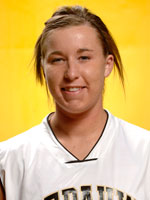 December 6, 2009, Birmingham, Ala. — Host Birmingham-Southern put together a 14-2 second-half run which turned a 5-point deficit into a 7-point lead and gave the Panthers the lead for good on the way to a 74-66 Southern Collegiate Athletic Conference victory over 20th-ranked DePauw.
DePauw dropped to 4-3 overall and 1-1 in the conference, while the Panthers improved to 5-2 overall and 1-1 in conference play.
The Tigers led much of the first half and were up by as many as seven before a late Birmingham-Southern three-pointer cut DePauw's halftime advantage to 38-34.
DePauw held a 50-45 advantage after Jenna Fernandez hit a free throw with 12:13 left, but Katelyn Wilson hit a three and Erin Jackson and Sam Davidson followed with buckets to give the Panthers a 52-50 lead.
The Tigers knotted the score on Kate Walker's basket, but Birmingham-Southern's Alex Adams nailed a three before Wilson followed with a couple of buckets to give the Panthers a 59-52 margin with 6:46 remaining.
Katie Mathews and Fernandez each scored to close the gap to three, but the Panthers matched it with four straight and DePauw got no closer than five the rest of the way.
Brooke Osborne (pictured) led the Tigers with 16 after hitting 4-of-8 three-pointers, while Fernandez and Lauren Goff each scored 11. Ellie Pearson grabbed eight rebounds as DePauw held a 42-31 edge on the boards.
Adams paced the Panthers with 18 and Wilson dropped in 16 in the win. Adams also hauled down eight boards.
DePauw shot 40.3 percent from the floor for the game, while the Panthers hit 48.1 percent and nailed 10-of-23 three-pointers.
The Tigers return to action on Friday, December 11, when they open the home portion of their schedule against Robert Morris-Springfield at 6 p.m.
Follow DePauw Athletics on Twitter | Become a Fan of DePauw Athletics on Facebook
Back