Tigers Suffer Season's First Loss at Birmingham-Southern
December 6, 2009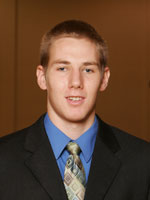 December 6, 2009, Birmingham, Ala. — Host Birmingham-Southern shot 53.8 percent from the field and outrebounded DePauw, 35-22, on the way to an 84-68 Southern Collegiate Athletic Conference win over the Tigers.
DePauw dropped to 5-1 overall and 1-1 in the SCAC, while the Panthers improved to 6-0 overall and 2-0 in the SCAC.
Birmingham-Southern built as much as a 16-point lead in the first half before heading to the break with a 44-30 advantage. The Panthers scored the first five points of the second half and the Tigers got no closer than 10 on a couple of occasions in the closing minutes.
Sean Haseley (pictured) matched a career high with 18 points, while Drew Wills established one with 14 and Steve Lemasters followed with 11. Ryan Russell paced the Tigers with four rebounds.
Jasen Jonus led Birmingham-Southern with 16 points, while Patrick Price and Aaron Parr each had 10. Blaise White, Mark Messenger and Parr each grabbed five rebounds.
The Tigers connected on 10-of-25 threes in the loss with seven different players knocking in at least one.
DePauw returns to action on Tuesday, December 8, when it hosts Purdue-North Central at 7:30 p.m.
Follow DePauw Athletics on Twitter | Become a Fan of DePauw Athletics on Facebook
Back