Iris Dooling '06 Named Eli Segal Fellow at the Corporation for National and Community Service
December 6, 2009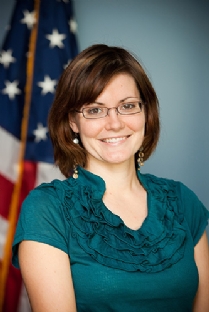 December 6, 2009, Greencastle, Ind. — Iris L. Dooling, a former AmeriCorps member whose service included terms with Teach for America and the Indiana Reading Corps, has been named the Eli Segal Fellow at the Corporation for National and Community Service, the national service agency that oversees AmeriCorps. Dooling is a 2006 graduate of DePauw University. (photo by M.T. Harmon)
"Iris's commitment to national service is admirable and the value of her work to empower America's young people is immeasurable," says Nicola Goren, acting CEO of the Corporation. "The expertise she gained as an AmeriCorps member will be a tremendous asset for the Corporation as she continues to develop the leadership skills that Eli Segal valued so highly."
The Corporation for National and Community Service is a federal agency that engages 5.5 million Americans in service through its Senior Corps, AmeriCorps, and Learn and Serve America programs, and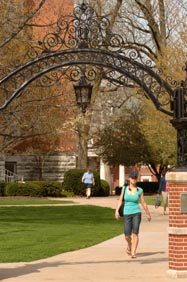 leads President Obama's national call to service initiative, United We Serve.
Dooling will work in the office of the CEO at the Corporation on projects to advance the mission of national service and the strategic goals of the agency.She was selected in a highly competitive process that produced applicants from all branches of AmeriCorps: state and national, VISTA and NCCC.
The Eli Segal Fellowship, named in honor of the first CEO of the Corporation, brings a stellar former AmeriCorps member to work in a different side of the service world. CNCS' board of directors established the fellowship after Segal's death in February 2006. The competition was open to AmeriCorps alums who served full-time in the past three years. Candidates were sought who had strong leadership abilities, dedication to the ideals of national service, a social entrepreneurial spirit, and effective communication and analytical skills.
The 26-year-old Dooling started her AmeriCorps service with the Indiana Reading Corps-AmeriCorps at DePauw University, where she graduated magna cum laude in English literature and French. While at DePauw, she founded the Putnam County Pride Project, an elementary student writing project designed to develop community pride and encourage improved community-college relations. Her Teach for America AmeriCorps service was at Crestworth Middle School in Baton Rouge, La., in 2006-07, where she led 92 low-performing students to master an average of 70% of the English curriculum and 80% of the grade-level writing skills. She also spent the summer of 2007 as a National Leadership Fellow with Breakthrough/Summerbridge New Orleans, where she trained and supported 30 student teachers to instruct and mentor at-risk, low-income middle school students. From 2007 until 2009, Dooling ran the Louisiana State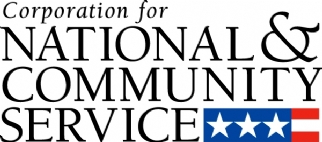 AmeriCorps program for Habitat for Humanity.
"I'm honored to have been chosen for this fellowship," Dooling states. "Serving in AmeriCorps set me on the path to a career in service. My goal as the Eli Segal Fellow is to continue the service I started with AmeriCorps and to make a difference in the lives of AmeriCorps members and those they serve."
Read more by clicking here.
Last spring, a record-high 19 new graduates of DePauw committed to Teach For America for the next two years. With about 4% of its graduating seniors entering TFA in 2009, DePauw was among the nation's strongest contributors to the program.
Back