Monon Bell DVD Arrives from Factory, Now Shipping
December 7, 2009
Also: Order Your 2009 Monon Bell DVD;

[Download Video: "2009 Monon Memory" - 10,311kb]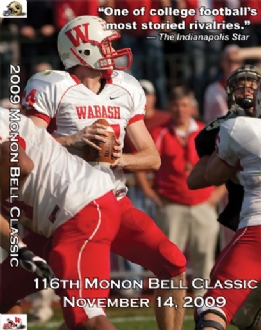 December 7, 2009, Greencastle, Ind. — Twenty-two days after the playing of the 2009 Monon Bell Classic, the limited edition DVD of the game has arrived from the factory and is ready to ship. A collaborative effort of DePauw University and Wabash College, the disc includes the HDNet telecast of the contest in anamorphic widescreen (enhanced for 16x9 televisions) and more than 2 hours of bonus features.
The DVDs are $15 each. A $3 shipping and handling charge will be added to each order, regardless of size, as well as 7% sales tax to orders shipped within Indiana. They are available online via this form.
"Each school only has about 150 of these discs to distribute, and many are spoken for via pre-orders," says Ken Owen '82, executive director of media relations at DePauw, who mastered the DVD. Jim Amidon, director of public affairs and marketing at Wabash College, created the artwork for the packaging and menus for the discs, which were replicated by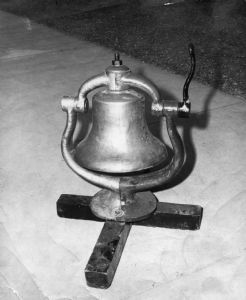 Oasis Disc Manufacturing in New Jersey. It marks the tenth Monon Bell Classic to be commemorated on DVD.
In addition to the complete 2009 battle for the Bell, the platter includes two photo galleries (one for this November's contest, assembled by Alex Turco '10; the other containing images from the rivalry's storied past) totaling more than 800 shots. Selected highlights from the current season are also found on the disc, along with the features which aired during halftime, including a profile of DePauw senior Alex Fitch and an interview with Robby Long, head football coach of the Tigers.
Other bonus materials include the recently discovered original demo for The Ballad of the Monon Bell, recorded in 1985, as well as the popular music video for the final version of that song, recorded by Jimmy Ibbotson (DePauw '69), formerly of the Nitty Gritty Dirt Band:

[Download Video: "Ballad of the Monon Bell - 2007 Version" - 10,419kb]

[Download Audio: "Ballad of the Monon Bell - Stereo" - 2514kb]. There are also eleven "Monon Memories" (from 1890, 1932, 1940, 1946, 1955, 1965, 1971, 1981, 1997, 2001 and 2007), and game day features from 1981, 1990, 1994 and 2002, as well as a clip of DePauw's all-time winningest football coach, Nick Mourouzis, offering his reflections on the DePauw-Wabash rivalry.
Still available are the DVDs of the 2001-08 Monon Bell Classics (supplies of the 2001, 2002 and 2007 discs are extremely limited; the 2008 game is a two-disc set including all 115 "Monon Memories").
A disc of the first-ever telecast in the rivalry -- of the 1977 game -- was recently completed. Information on obtaining a copy can be received by sending an e-mail here.
For a recap of the 116th Monon Bell Classic, click here.
Access DePauw's Monon Bell Web page here.
Back