Photographic Quilts of Prof. Cynthia O'Dell Featured in New Book
December 16, 2009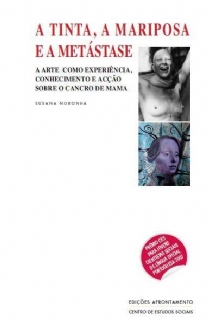 December 16, 2009, Greencastle, Ind. — Photographic quilts by Cynthia O'Dell, University Professor and associate professor of art at DePauw University, are featured in A Tinta, a Mariposa e a Metástase: a arte como experiência, conhecimento e acção sobre o cancro de mama (The Paint, the Mariposa and the Metastasis: art as experience, knowledge and intervention on breast cancer). The book, by Susana Noronha, "presents a visceral and reflective analysis of twenty four art projects shaped around the feminine experience of breast cancer." It has been published in Portuguese by Edições Afrontamento.
Learn more by clicking here.
O'Dell's photographic quilts (one of which is seen at right) depict the lives and stories of women living with breast cancer. "In my family and others', the quilt has been an object of nostalgia and comfort," according to the professor. "It was a way for the women in my family to make their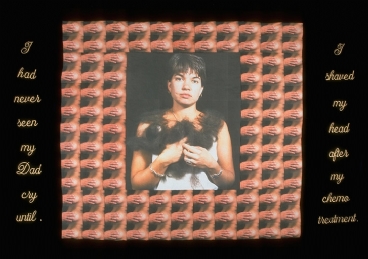 own mark when it was not always appropriate for a woman to be heard. It is an object with which my mother told me stories and defined our family history. The quilt can also be understood as an object of comfort, but by placing such an uncomfortable subject on this 'soft' surface suggests the difficulties of dealing with a disease such as breast cancer. The quilt becomes an object with which to display this traumatic and uncomfortable information and also creates a point of juxtaposition. The quilts are beautiful, seductive and luscious objects. They are made of velvet and are embroidered in Gold script. They pull the viewer into a portrait of a woman who by normal standards of American Beauty, has been disfigured. While the viewer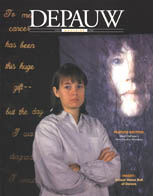 becomes involved in a visually appealing object they also become involved in an image that defies normal assumptions of beauty."
See more examples of O'Dell's work at her Web site.
In 2002, an exhibition of Professor O'Dell's photographic quilts, "Common Threads," was displayed at Pfizer's world headquarters in New York City. Details can be found in this story.
The work has also exhibited at the Muscatine Art Center in Iowa, Centenary College in Louisiana, Illinois' Galesburg Art Center, and at Iowa Wesleyan College in 2004.
Back