Da Huo '13
December 9, 2009
Each year, thousands of high school seniors walk DePauw's campus and imagine what life would be like wearing the school colors, black and gold. Last year, Da Huo '13 wondered, too – except his campus tour was taken online from his home in Nanjing, China. "It's difficult for many international students to visit campuses in the United States," Huo says. "We depend on school Web pages."

"I was looking for a small college rather than a large university. It's a better atmosphere to communicate with each other, and the professors are more focused on the students," Huo says.


DePauw's campus photos – especially those of the DePauw Nature Park – attracted Huo's attention because of his interest in science. Huo is a Science Research Fellow and hopes to spend the summer at the Nature Park researching swallowtail butterflies with Professor of Biology Wade Hazel.

The Science Research Fellows Program is an honors program for outstanding students interested in studying science and receiving significant hands-on research experience as an undergraduate. During students' first summer in the program, they spend 10 weeks on campus as paid research assistants working on a collaborative research projects with science faculty members.

Huo is currently taking an introductory biology course with Professor Hazel. "His class is amazing and interesting. I love it and really would like to work with him this summer," Huo says.


Hazel has published research on swallowtail butterflies for more than 30 years. His research is unique in that he is the only scientist who has attempted to monitor fine scale fluctuations in diapause timing. His project title is "Climate change and the evolution of the timing of diapause in swallowtail butterflies." Hazel explains that in temperate zone insects, diapause defines a state of low metabolic activity and resistance to environmental stress, such as winter.

"I've always had a great interest in biology since I was very young," Huo says. "I studied physics and biology in high school in Nanjing. Biology will be very important in our future. I want to help people live well and help them learn how to protect the environment."

At DePauw, Huo also has been able to continue his commitment to community service. The opportunity to be a Bonner Scholar influenced his decision to come to Greencastle. He is DePauw's first international student accepted into the program as a first-year student. Huo has plenty of community service experience. In Nanjing he received an outstanding volunteer award from the Nanjing Charity Foundation for his commitment to service as a high school student.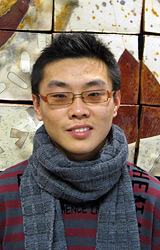 "I feel happy helping others. Doing volunteer work is also a way to get out into the American community. I can learn a lot from community service, and I appreciate being a Bonner Scholar."

The Bonner Scholar Program provides service-based scholarship to students. The Bonner Foundation Web site states that the program is designed to transform not only the students who are directly supported by the program, but also the campus and community where they serve and learn.

In Greencastle, Huo volunteers six hours each week at Asbury Towers Retirement Community. "The residents taught me how to play euchre, which I had never played before! I listen to them and chat with them and have even been invited to sing with them!" he says.

Huo is a member of the International Student Association. "As an international student here, I'm not alone. I don't feel lonely. I've met students from many different countries."

Loutfi and Aliza are very nice and send us e-mails, keep us posted, tell us to take care and hold special activities for us." Loutfi Jirari is associate director of the Center for International and Experiential Education, and Aliza M. Frame is assistant director of the Center for International and Experiential Education. Both serve as international student advisers and coordinate comprehensive support services for students.

"I miss my home and family, but DePauw gives me a feeling of family. I have many new friends who are really nice – just like my friends in China," Huo says.

Growing up in the city of Nanjing, with a population of more than 6 million people – nearly the same size of population as the state of Indiana – Huo says it was difficult to imagine the actual size of DePauw's campus in Greencastle. However, he is very pleased. "DePauw feels like home to me," he says.
Back