Research of Prof. Matt Hertenstein Featured in NY Times' 'Year in Ideas'
December 11, 2009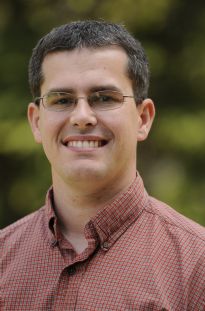 December 11, 2009, Greencastle, Ind. — "Say cheese and stay married? Yes, according to Matthew Hertenstein, a psychology professor at DePauw University in Greencastle, Ind.," notes this weekend's New York Times Magazine. Dr. Hertenstein, whose research on smiles and divorce received worldwide attention in the spring, is cited in the publication's "Ninth Annual Year in Ideas." As the editors put it, "Like a magpie building its nest, we have hunted eclectically, though not without discrimination, for noteworthy notions of 2009 -- the twigs and sticks and shiny paper scraps of human ingenuity, which, when collected and woven together, form a sort of cognitive shelter, in which the curious mind can incubate, hatch and feather."
Hertenstein's research is noted in the "Social Science" category. Jeff Stryker writes, "He and three colleagues recruited more than 600 people for a review of their college yearbook photos. The researchers rated the yearbook smiles by
coding muscle movements around the mouth and the eyes. The researchers found a surprising correlation: the less people smiled, the more likely they were to later divorce. The effect was statistically significant, though not huge. But when Hertenstein compared the top 10 percent of brightest smilers with the bottom 10 percent of weakest smilers, the 'lowest were five times more likely to be divorced than the top.'"
The text adds, "Studying smiles in photos is only the latest in what has come to be called 'thin slice' research, popularized in the book Blink, a couple of best sellers ago from Malcolm Gladwell. For example, from very short video clips, research volunteers have determined with surprising accuracy the personality, socioeconomic status and sexual orientation of those on camera. A still photograph is merely an extremely wafer-thin slice."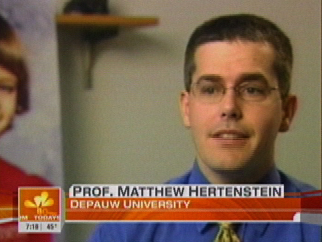 Read the complete text at the Times' Web site.

Earlier this year Matt Hertenstein's work received worldwide attention in media outlets including the London Daily Mail, CNN, the UK's Economist, the New Straits Times of Kuala Lumpur, Malaysia and NBC's Today.
Research conducted by Hertenstein, associate professor of psychology, and his students at DePauw has previously been featured in Scientific American Mind, American Baby and Prevention magazines, on the Canadian Broadcasting Corporation's program, The Nature of Things, in Sunrise magazine and the Toronto Sun, and on National Public Radio.
Visit Professor Hertenstein's Emotion Lab online by clicking here.
Source: New York Times Magazine
Back