Dave Lawrence '90 Appointed President of Arts Council of Indianapolis
December 11, 2009

December 11, 2009, Greencastle, Ind. — Dave Lawrence, a 1990 graduate of DePauw University, is the new president of the Arts Council of Indianapolis, a nonprofit organization that distributes funding to local arts groups. Lawrence, ""previously the council's vice president and the acting president since July, was promoted to the top job Thursday by a board of directors vote," reports today's Indianapolis Star.
David Lindquist and Jay Harvey write, "Lawrence inherits an operation presently unable to help arts groups at the level it did two years ago, when the City-County Council contributed $1.5 million and the Capital Improvement Board added $1 million in public funding to the arts council." That funding has been reduced drastically; the CIB cut its funding completely this year.
According to Lawrence, "Arts are at a precarious position right now, and it's not just based on public funding. Organizations are taking huge hits to their endowments. Corporate giving is low. The National Endowment (for) the Arts reported that national arts attendance is dropping as people respond to the financial crisis."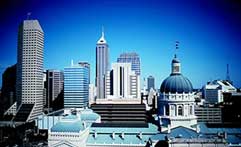 He adds, "We have to remember the cultural assets we have. We have incredible, internationally renowned organizations that are headquartered in Indianapolis. There are world-class facilities and some really top-notch artists."
John Pickett, executive director of the Indianapolis Opera, says of Lawrence, "He has a tough road ahead, but he's built a lot of credibility and confidence so far. As much as anyone, he knows what needs have to be met here. He's a good choice."
You'll find the complete article at IndyStar.com.
Back