Women's Hoops Team Crushes Robert Morris; Men Fall at Wabash
December 12, 2009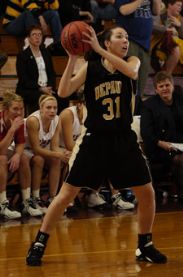 December 12, 2009, Greencastle, Ind. — "Seventeen players scored for host DePauw University as it cruised past the Robert Morris Eagles 90-44 Friday," reports the State Journal-Register of Springfield, Illinois. "The Tigers, who held a 54-21 halftime lead, were led in scoring by Jenna Fernandez with 19 points. Lauren Goff went 6-for-9 from 3-point range and added 18 points. DePauw made 18-of-35 (51.4 percent) from the field in the first half."
DePauw is now 5-3 on the season. The win was the
Tigers' 40th straight at the Neal Fieldhouse and 57th straight in the regular season.
The men's basketball team fell to 6-2 on the season following a 72-50 loss at Wabash College last night. Tom Callen led the Tigers with 14 points.
For the latest scores and information, visit the official online home of Tiger athletics.
Back