Copenhagen, Week One
December 14, 2009
Andrew Maddocks '11, an ITAP intern with the University's Sustainabilty Initiative, is one of 13 DePauw students attending the United Nations Climate Change Conference in Copenhagen. Below, he recaps the group's acitivities and blog updates through the first week of the conference. Follow his links to see blog entries from The Copenhagen Questions, written by Anthony Baratta '11, Taylor Cantril '11 and Maddocks, and Cornfields to Copenhagen, the DePauw Environmental Policy Project class blog. Read more about Maddocks in this earlier news story.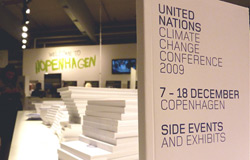 We sat entirely surrounded by the next generation of climate leaders in a room at the University of Copenhagen last Saturday, coats and bags filling the empty seats. The conference of the youth – an organizing meeting for the United Nations youth delegation to the Copenhagen climate change summit – had just ended.
We were about to join the front lines of the biggest conference the world has ever seen on climate change. And we still had to ask ourselves, "What are we doing here?"
At its core, this has been a week of learning and sharing from the front lines of the most globally significant negotiations any of us have ever attended.
Anthony Baratta '11, Khin Khin Hlaing '12, Jay Wellik '10, Taylor Cantril '11 and I have balanced roles as policy analysts, activists, bloggers, reporters and logistics coordinators for the DePauw Environmental Policy Project. Over the course of seven very full days, we've watched global decision makers in action, and met a few of them. We've connected global news media reports to briefings and meetings we've done ourselves. We've learned from non-governmental experts, activists and students from across the globe.
Baratta has been digging for the voices behind actions and controversial briefings. He also joined a group of Chinese and American youth delegates on Wednesday, Dec. 9.
"It was a great chance to see just how informed and how active the youth delegations are about climate change issues," he said.
The two official delegations have been politically divided in Copenhagen. American negotiators are pushing China toward stricter emissions targets, and the Chinese are asking America for greater technology transfer to facilitate carbon-reduced development.
But the youth delegates successfully bridged the gap, hashing out differences in policy and ways to collaborate over a good Chinese meal. Baratta even got the chance to meet with U.S. Secretary of Commerce Gary Locke and 11 other youth, six of them Chinese.
While Baratta's been collaborating with members of the global south, Hlaing has been sharing her firsthand experience from the region.
She's followed and participated in actions that, in her written words, "are the voices of the youth, the vulnerable and the hopeless." As early as Saturday's conference of the youth, Hlaing was practicing a pro-treaty dance with other youth organizers.
Whether in the thick of things or on the sidelines, she's worked to understand and spread the activists' message.
Wellik dove in mid-week, talking to as many people as possible and immediately embarking on an energy tour of a Danish offshore wind farm. His multiple posts shared pieces of demonstrations and captured the occasionally circus-like Bella Center.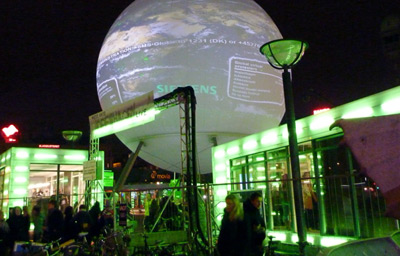 Cantril has been connecting it all together – from actions, to public plenary sessions and policy briefings, to private reports from party meetings.
"Often sessions last for several hours, and it looks as if nothing is happening," Cantril said. "We're realizing more and more is happening in private consultations."
The challenge, he said, is synthesizing what could be posturing in public and honest discussions behind closed doors. But it's impossible to understand the big picture without following the process, looking for publicly invisible alliances and digging for the clearest message.
That kind of policy vision, Cantril said, will give the most accurate picture of the conference. It can better inform non-governmental organization leaders coordinating actions directed toward politicians, and even refine campaigns back in the U.S.
I've kept my Copenhagen lens on wide angle through much of the conference, looking for opportunities for color commentary. Rarely have I seen such a proliferation of stories in one place, and I tried repeatedly to narrow my focus. Every day is filled with informative meetings, unexpected demonstrations and new perspectives on the climate conference. The four of us have captured as much as we can.
Nine other students from the DePauw Environmental Policy Project arrived Saturday, and they are deploying throughout the city to capture even more stories from the UN climate change negotiations. They're already updating Cornfields to Copenhagen. Their work will continue through the end of next week.
Back