ABC Affiliate Covers Jesse Jackson's Ubben Lecture at DePauw
December 3, 1992
Also: More Coverage of Jesse Jackson's Ubben Lecture at DePauw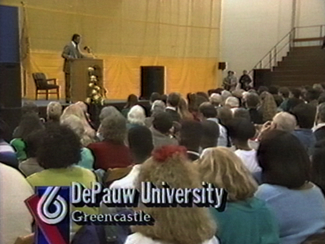 December 3, 1992, Greencastle, Ind. — "Reverend Jesse Jackson was in Indiana this afternoon with a message. He says our nation is in search of its soul and needs to heal and rebuild," WRTV anchor Clyde Lee stated during the Indianapolis ABC affiliate's evening newscast. Co-anchor Diane Willis added, "Jackson spoke at DePauw University in Greencastle" as she introduced a taped report by Angela Cain on today's Timothy and Sharon Ubben Lecture at DePauw.
The news clip included comments by DePauw students Erika Page and Donnie Evans.
See WRTV's coverage here:

[Download Video: "ABC Affiliate Covers Ubben Lecture" - 13,128kb].
Reverend Jackson spoke to a full house in DePauw's Neal Fieldhouse. A summary of his remarks, including a video clip, can be found here.
Endowed by Timothy and Sharon Ubben, both 1958 graduates of DePauw, the University's Ubben Lecture Series is designed to bring the world's top leaders, thinkers and creative minds to the Greencastle campus. See a list of all Ubben Lecturers by clicking here.
Source: WRTV (ABC/Indianapolis)
Back