Mobile Devices Will Soon Overtake PCs for Internet Browsing: Mary Meeker '81
December 17, 2009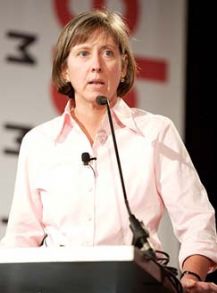 December 17, 2009, Greencastle, Ind. — "More users will access the Internet via mobile devices than desktop PCs within five years, according to a Dec. 16 report from Morgan Stanley's Mary Meeker, one of the analysts who predicted the original Internet boom," notes Business Week's Olga Kharif. "Smartphones, e-book readers, connected in-car electronics and wireless home appliances like gaming consoles would sell more than 10 billion units by 2020. That's ten times more devices than there are desktop PCs, according to the report."
Meeker, managing director of Morgan Stanley and 1981 graduate of DePauw University, "believes that the mobile Internet revolution will produce a new crop of winners, whose ranks won't include today's giants. Microsoft, Cisco and Intel benefited from proliferation of PCs. Desktop Internet computing lead to the birth of Google, eBay and Yahoo. Mobile Internet computing winners are yet to be defined, she writes."
According to Meeker, "We use a data-rich, theme-based framework for thinking about how the rapidly emerging and changing mobile Internet may evolve -- the details are in our report."
Meeker's observations on the growth of mobile Web technology were noted in a recent Providence Business News article.
Back