FOX News Anchor Bret Baier '92 Featured in Politico
December 18, 2009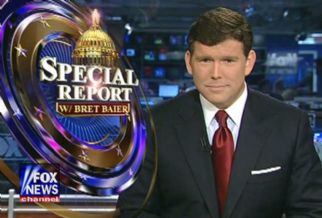 December 18, 2009, Greencastle, Ind. — "I want to continue this success," says FOX News Channel anchor and 1992 DePauw University graduate Bret Baier. A story in the Politico details how the viewership of Baier's program, Special Report, is up 28% over where it was last December compared with last December, when Brit Hume was the anchor. Hume retired at the end of 2008.
"Brit laid the foundation and built the beginning of the house, and we're building it up," says Baier. "We'd really like to make it a mansion. Our goal is to make it the premier news show, period."
Hume says, "My attitude is: I'd like to be Bret Baier. He's an incredibly attractive, exceedingly able, totally honorable guy."
The piece also quotes Fordham University media professor Paul Levinson, who offers, "I would say Bret Baier is probably one of the best people doing that kind of newscast at any of the cable operations. He's friendly; he's relaxed but also engaging and objective." (at right: Baier at DePauw; March 17, 2008)
Politico's Erika Lovley describes Baier as "sunny, serious, self-deprecating and approachable."
You'll find the complete article, "Bret Baier settles into the house that Brit Hume built," at Politico.com.
In July, Baier was featured in Golfweek and also discussed his days at DePauw's Center for Contemporary Media in the Atlanta Journal-Constitution.
Back