DePauw Improves to 7-2 with Win at Earlham
December 19, 2009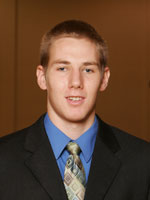 December 19, 2009, Richmond, Ind. — DePauw improved to 7-2 on the season following a 66-55 win at Earlham. The Quakers dropped to 3-7 with the loss.
The Tigers led by as many as six in the first half with the last coming at 22-16 on Ryan Sever's three-pointer with 6:30 left. Earlham hit three straight three-pointers to take a 25-22 advantage and went to the break with a 29-25 lead.
Tony James opened the second half with a bucket and Steve Lemasters followed with a three to give the Tigers a 32-29 lead. Earlham later tied the contest at 35-35, but Lemasters hit a three which started a 9-0 run and gave DePauw a 44-35 lead with 11:08 remaining in the game.
Earlham's Matt Marsh scored with 6:32 left to close DePauw's lead to 51-48, but Sean Haseley knocked down a three which began an 8-0 stretch and pushed the Tigers' lead to double digits.
Haseley (pictured) paced DePauw and matched a career high with 19 points, while Lemasters added 10. David Gray grabbed a game-high seven rebounds as the Tigers held a 32-27 edge on the boards. Tony James and Tom Callen each had three assists for the Tigers.
A.J. Sutherlin led Earlham with 17 points and Marsh followed with 13. Marty Broderick led with five rebounds and Kyle Calder dished out four assists.
DePauw shot 47.1 percent from the floor for the game and nailed 59.1 percent of its second half shots. The Quakers hit 43.8 percent for the game and had 18 turnovers to DePauw's 14.
The Tigers return to action when they compete in the Defiance College Purple & Gold Financial Tourney. DePauw takes on Adrian at 5 p.m. on December 29.
Follow DePauw Athletics on Twitter | Become a Fan of DePauw Athletics on Facebook
Follow DePauw Athletics on Twitter | Become a Fan of DePauw Athletics on Facebook
Back