Men 7-2 After Basketball Win at Earlham
December 20, 2009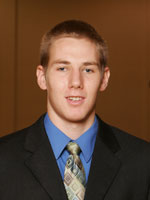 December 20, 2009, Greencastle, Ind. — "DePauw's shooting percentage shot up and the Tigers shot ahead Saturday afternoon at the Athletics and Wellness Center," begins a story in today's edition of Indiana's Richmond Palladium-Item. "The Tigers connected on 59.1 percent from the field in the second half -- 54.5 percent in 3-pointers -- as they clawed out a 66-55 victory in men's basketball over Earlham College."
DePauw trailed 29-27 at halftime, and head coach Bill Fenlon tells the newspaper, "We were a lot better offensively in the second half. We got the ball moving a little bit better, and when you make shots it's a little bit easier."
Sean Haseley (pictured at top) led the Tigers, now 7-2 on the season, with a career high 19 points.
Read more at the newspaper's Web site.
Get the latest on the men's basketball program at the team's official Web page.
Back