Alice Ripley '85 Commended for "Subtle, Deeply Sympathetic Performance"
December 27, 2009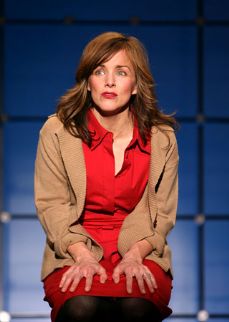 December 27, 2009, Greencastle, Ind. — In a review of the Broadway musical Next to Normal, the Pittsburgh Post-Gazette's Christopher Rawson opines, "Leading the show's distinctions is a subtle, deeply sympathetic performance as the wife/mother by Alice Ripley, who won a well-deserved best actress Tony. This taut, intimate musical is an ensemble piece, but the wife is its focus and Ripley is fully believable, never stooping to special pleading. Her acting is especially brilliant away from the ball -- that is, when others are speaking she conveys so much without any hint of scene stealing."
Read more at the newspaper's Web site.
Ripley, a member of DePauw University's Class of 1985, "gives what might be the most remarkable performance since Christine Ebersole's Edie Beale," Playbill noted recently, calling Next to Normal "the most arresting Broadway musical of the year." Learn more in this article.
Back