Charles Ballinger '57 Publishes Balancing the School Calendar
January 4, 2010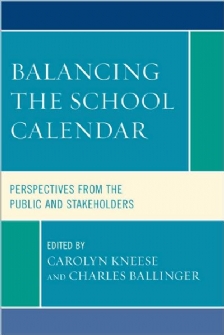 January 4, 2010, Greencastle, Ind. — Charles Ballinger, executive director emeritus of the National Association for Year-Round Education and 1957 graduate of DePauw University, is co-editor of Balancing the School Calendar : Perspectives from the Public and Stakeholders. Published by Littlefield Education/Rowman & Littlefield, the book is a collaboration with Carolyn Kneese.
A synopsis of the text states, "Many thoughtful and forward-looking educators and administrators have reorganized the school calendar from the traditional nine-month model to one that is more balanced, and they have seen both positive and negative results in the classroom, school, district, and community. Balancing the School Calendar is a compilation of perspectives and research reports from those
who have reorganized classroom time to create better learning situations for students."
Learn more, and order the book, at Barnes & Noble.com.
Ballinger and Kneese previously collaborated on School Calendar Reform: Learning in All Seasons.
Back