Dan Quayle '69 Takes Oath as Nation's 44th Vice President
January 20, 1989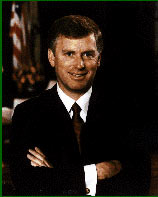 January 20, 1989, Greencastle, Ind. — Dan Quayle, a 1969 graduate of DePauw University, was sworn in today as America's 44th vice president in ceremonies on Capitol Hill. The oath of office was administered by U.S. Supreme Court Justice Sandra Day O'Connor shortly before George H.W. Bush was formally installed as the nation's new president.
The DePauw University Band was also part of the festivities. Its sixty-nine members were invited to participate in the inaugural parade, and marched down Pennsylvania Avenue this afternoon.
Yesterday, the band played before about 9,000 people at an education forum, "Looking Forward," which was led by Quayle and included a surprise appearance by Bush.
Quayle, who served in both the U.S. House of Representatives and U.S. Senate, becomes the first DePauw alumnus to assume the vice presidency.
DePauw President Robert G. Bottoms attended the inauguration, as did Gerald Warren, professor emeritus of economics and
management and former mayor of Greencastle, who had Quayle as a student. Many others from DePauw were on hand, as well, including the vice president's parents, James Quayle and Corinne Pulliam Quayle, both 1943 graduates of DePauw. A total of 117 members of the Quayle family attended the inaugural events.
See a video clip from today's event here:

[Download Video: "Vice President Dan Quayle '69 Takes Oath" - 3712kb].
Yesterday, Dan Quayle was interviewed live on NBC's Today. Access a video clip here.
Back