Jerry Berndt "Agonized Over the Decision" to Leave DePauw for Penn
January 14, 1981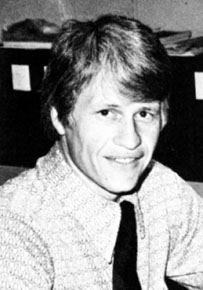 January 14, 1981, Greencastle, Ind. — "Leaving DePauw to become head football coach at the University of Pennsylvania was 'the toughest decision I've ever made,' said Jerry Berndt," reports the Associated Press today. "Berndt, 40, accepted the Ivy League coaching position on Monday. He told a farewell news conference at DePauw yesterday that he 'agonized over the decision for some time.'"
The piece notes, "Berndt guided DePauw to a 7-2-1 record last season after a 2-7 campaign his first year at the Division III school."
"I was received warmly by the administration, the faculty and the community of Greencastle," Berndt tells AP. He adds, "at this stage, the DePauw football program is a potential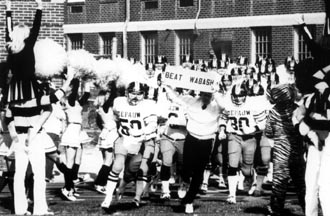 playoff contender. After two years here, I believe I earned their respect. They certainly earned my respect." (above: Berndt leads his team onto the field before the 1980 Monon Bell Classic)
Access the full story by clicking here.
Visit the Tigers online page for comprehensive coverage of the football program.
Back