'Best of Decade' Book List Includes Five Ubben Lecturers
December 31, 2009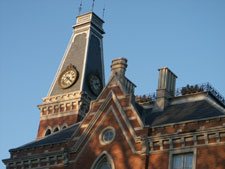 December 31, 2009, Greencastle, Ind. — Works by five individuals who have visited DePauw University as Timothy and Sharon Ubben Lecturers are among 75 included in a listing of the decade's best books by Canada's largest book retailer, Indigo Books & Music Inc. The "Best of the Decade List" was "compiled, considered and debated by the dedicated team of Indigo book buyers who have read, reviewed, recommended and bought a staggering number of books since 2000 ... the Indigo Best of the Decade List is neither a selection of personal favorites nor a spotlight on overlooked hidden gems. Indigo's listing of the new millennium's best books so far is driven by their impact and their popularity."
Included among the best non-fiction titles of the past decade are:
A listing of the "top ten life-changing books" includes:
The largest book retailer in the country, Indigo (TSX:IDG) operates in all provinces under different banners including Indigo Books & Music; Indigo Books, Gifts, Life; IndigoSpirit, Chapters, The World's Biggest Bookstore, and Coles. (at left: Eric Schlosser receiving an honorary Doctor of Public Service degree at the 166th commencement)
Access the complete list here.
Created by a gift of 1958 DePauw graduates Tim and Sharon Williams Ubben, the Ubben Lecture Series was established in 1986. Designed to "bring the world to Greencastle," its other guests have included: Tony Blair, Mikhail Gorbachev, Benazir Bhutto, Howard Dean and Karl Rove, Ross Perot, Shimon Peres, Margaret Thatcher, Ken Burns,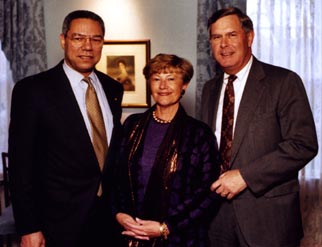 Barbara Bush, E.O. Wilson, Robert Gates, Elie Wiesel, L. Paul Bremer, Ralph Nader, Todd Rundgren, Zbigniew Brzezinski, Naomi Wolf, John Major, Jesse Jackson, Spike Lee, Mike Krzyzewski, David Plouffe, General Wesley Clark, ice cream entrepreneurs Ben & Jerry, Peyton Manning, William Cohen, Hotel Rwanda's Paul Rusesabagina, Willy Brandt, Bill Bradley, Jane Pauley, PostSecret founder Frank Warren, Brian Mulroney, Paul Tsongas, Gwen Ifill, Lynne Cheney and Harry Belafonte. To view a complete roster of Ubben Lecturers, which includes links to video clips and news stories, click here. (at right: Tim and Sharon Ubben with Gen. Colin Powell; November 2, 1994)
A video retrospective of the Ubben Lecture Series -- produced by DePauw students -- was premiered in June 2008. Read about the project, and view the piece, via this article.
Back