Maryville Takes Third at Hasbrook Memorial Tournament
December 30, 2009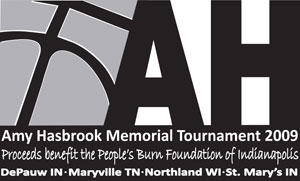 December 30, 2009, Greencastle, Ind. — Northland scored 11 straight points late in the second half to erase an 11-point deficit in their Amy Hasbrook Memorial Tournament third-place game with Maryville, but the Scots hit all six free throws in the final minute and claimed a 74-70 win.
The teams battled through a tight first half with Maryville gaining a 7-point lead on a couple of occasions before going to the intermission with a 39-36 lead.
Northland closed the gap to two at 43-41 with 17:31 remaining before Maryville extended it to 55-42 with a 12-1 run. The Scots still led by 11 at 68-57 with 5:20 left, but the Lumberjills scored the next 11 to tie the game at 68-68.
The teams exchanged two free throws each before Maryville took a 72-70 lead on Alexis Rouvelas' two charity tosses with 14 seconds left. Northland turned the ball over with five seconds left and Alicia Brown canned a pair of free throws to seal the win.
Rouvelas paced Maryville with 24 points, while Janell Menard added 13 and Alison Harmon followed with 12. Harmon grabbed a team-high seven rebounds and Brown dished out seven assists.
Maria Mackey and Melissa Waytashek each scored 14 for Northland with Lindsey Hamm following with 13 and Lulu Seelye adding 12. Waytashek grabbed nine rebounds as each team totaled 36. Chelsea Lundgren recorded five assists.
Follow DePauw Athletics on Twitter | Become a Fan of DePauw Athletics on Facebook
Back