Tigers Hold on for SCAC Win at Centre; Marshall Sets DePauw Career Rebound Record
January 3, 2010
January 3, 2010, Danville, Ky. — Jenna Fernandez (left) scored a season-high 21 points and Katie Mathews added 18 as DePauw held on for a 62-56 Southern Collegiate Athletic Conference win at Centre.
The Tigers improved to 9-3 overall and 2-1 in the SCAC, while the Colonels dropped to 7-4 overall and 2-1 in conference play.
The Tigers led by as many as 12 in the first half at 27-15 before Centre closed the halftime gap to 31-25. The Colonels trimmed the margin to one on a couple of occasions with the last coming at 36-35 on Maggie Prewitt's jumper with 13:03 left.
Katie Mathews hit two free throws before Lauren Goff and Brooke Osborne knocked down threes to push the Tigers' lead to 46-37 with 10:34 remaining.
Centre eventually closed to within 50-48 after Lauren Huter's bucket with 4:38 left, but Fernandez's three-point play made it 53-48. Goff hit a free throw to make it a six-point game before Amanda Stovall knocked down a three and Huter hit a layup to cut DePauw's lead to 54-53 with 2:10 remaining.
The teams exchanged baskets before Fernandez scored a layup with just under one minute left and was fouled on the play. She missed her free throw, but the Tigers led 58-55.
Chelsea Benham hit one of two free throws with 47 seconds remaining before Kate Walker's jumper just before the shot clock buzzer gave the Tigers a 60-56 advantage. Emily Marshall sealed the win with a steal before Walker hit two free throws.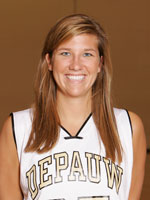 Fernandez's 21 points came on 10-of-11 shooting from the floor, while Mathews added 18 and hit all 10 free throws. Osborne followed with 12 points, while Marshall (right) grabbed 10 boards and Walker dished out four assists.
Marshall's third rebound of the game broke the DePauw career record of 767 held by Seana Murphy (1987-91) and the game marked the 27th double-digit effort on the boards in her career.
Prewitt paced Centre with 17 points, while Huter added 12 points. Prewitt, Benham and Angela Tronzo each grabbed five rebounds.
The Tigers shot 42 percent from the field to Centre's 43.2 percent, but DePauw committed 17 turnovers to Centre's 20. DePauw held a 34-30 edge on the boards and grabbed 13 offensive rebounds.
DePauw hosts Sewanee on Friday, January 8, at 6 p.m.
Follow DePauw Athletics on Twitter | Become a Fan of DePauw Athletics on Facebook
Back