Communication is Key to Success in Public Life, Writes Lee Hamilton '52
January 7, 2010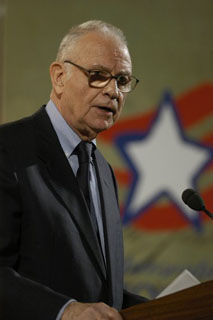 January 7, 2010, Greencastle, Ind. — "Not long ago, I was speaking to a group of high school students when one raised his hand, declared that he wanted to run for Congress, and asked what he should study in order to prepare," writes Lee Hamilton, veteran statesman and 1952 graduate of DePauw University. "I suspect my answer surprised him. I told him to study English. What I had in mind were writing, reading, and public speaking. Members of Congress need to be good at a lot of things if they want to be effective, but chief among them is the ability to communicate."
In a newspaper op-ed, Hamilton continues, "Politics -- both getting elected and making a meaningful contribution to public life -- is largely about interaction with other people. You won't succeed if you can't make yourself understood, don't know how to pay attention to what others think, and don't care about the dialogue that underlies our democracy."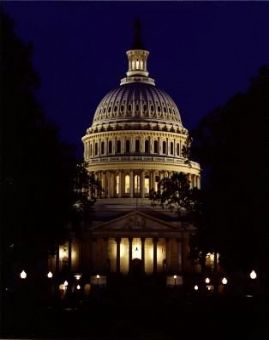 The Democrat who served 34 years in the U.S. House of Representatives notes, "Sometimes politicians have a chance to spend time choosing their words, but more often they have to speak off the cuff, weighing the import of their words even as they say them. Some people are born with this ability, but for lots of us it's a skill we learn with practice, and it's invaluable to a politician."
Hamilton underscores the importance of having the ability to speak extemporaneously and with conviction, using a different tone in town hall audiences than you would during a television appearance. "All of these things are helped enormously by preparation," he asserts. "You may not have to know your exact words ahead of time, but you most certainly want to master your subject. When you're not sure of the facts or even of your own position, you have to tread extremely carefully: that's when politicians make mistakes, and in politics a bad slip can be devastating, especially in the age of mini digital recorders, camcorders and YouTube."
Hamilton, who co-chaired the 9/11 Commission and Iraq Study Group, adds, "At the same time, the best politicians know that a crucial part of good communications is the ability to listen to constituents, to members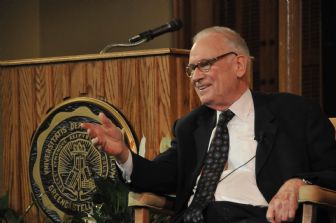 of an audience, and to political opponents. The importance of paying attention to the first two should be obvious. You want to be able to address the concerns of listeners and to be ready to learn from them: not only do you not want to come across as an arrogant know-it-all, but also you'd be surprised and humbled to discover how much a crowd of average Americans can teach even the best-versed politician. The same is true of your colleagues and opponents. Any public policy debate of consequence will have good points on both sides, and learning to welcome multiple perspectives is vital."
He concludes, "Being a good politician means being a good conversationalist, not simply scoring a few rhetorical points and then going home. Our system depends on give and take, not on drawing lines in the sand, and the more budding politicians there are who understand that, the better off we'll all be."
Access the complete essay at the Web site of the East Oregonian.
On December 23, President Barack Obama appointed Lee H. Hamilton to serve on the President's Intelligence Advisory Board. (at right: Hamilton receiving the Old Gold Medal, the highest honor given for exemplary and meritorious service to DePauw, on May 23, 1998)
Hamilton is president and director of the Woodrow Wilson International Center for Scholars and director of the Center on Congress at Indiana University. He recently authored Strengthening Congress. Newsweek has called him "Mr. Integrity," while the New York Times' David Brooks opined of Hamilton, "The country is hungering for leaders like him: open-minded, unassuming centrists who are interested in government more than politics."
Back