Wall Street Journal Cites Accuracy of Pollster Scott Rasmussen '86
January 7, 2010
January 7, 2010, Greencastle, Ind. — "Most of us pay attention to polls because we want to know how upcoming elections are likely to play out and how the distribution of political power will change," notes the Wall Street Journal in a story on independent pollster Scott Rasmussen." On that score, Mr. Rasmussen seems to get solid results. FiveThirtyEight.com, a liberal Web site run by Nate Silver, found that Mr. Rasmussen had the third-highest mark for accuracy of any pollster in last year's elections. He predicted a six-point Obama victory; the final margin was seven points. In 2009, Rasmussen did it again. His final survey in New Jersey had Republican Chris Christie beating Democrat Jon Corzine by three points, exactly the margin of Mr. Christie's victory."
Scott Rasmussen, a 1986 graduate of DePauw University, is president of Rasmussen Reports. He and his father, Bill Rasmussen '54, co-founded ESPN.
John Fund's column begins, "Confronted with their gloomy poll numbers, Democrats have decided the solution is to discredit the pollsters they blame for dragging down their standing with the public. Politico.com reports that the No. 1 target is the proprietor of Rasmussen Reports, source of widely reported polls tracking the declining popularity of President Obama and his legislative initiatives ... Mr. Rasmussen responds that any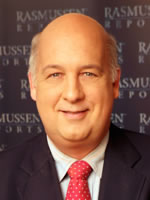 differences can be accounted for in large part because he screens for only those voters whom he determines are most likely to vote. This group, he says, is trending more conservative these days because they are highly motivated in opposition to Obama policies. Other firms poll adults without screening for likely voters, he told Politico, a procedure that's 'always going to yield a better result for Democrats.'"
Access the full text -- "It's All Rasmussen's Fault: Look, a messenger! Somebody shoot him!" -- at the Journal's Web site.
Learn more about Scott Rasmussen, who majored in history at DePauw, in this previous story.
Back