Nature Park Offers "Winter Fun," Paper Declares
January 11, 2010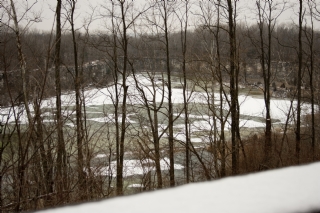 January 11, 2010, Greencastle, Ind. — "Every Friday, rain, sunshine or snow, Whitney Morrill and Judy Aikman take a walk at the DePauw Nature Park. The recent snowstorm in Putnam County didn't deter them this week," writes Maribeth Ward in today's Banner-Graphic. "Like many local residents, the two women look for interesting places to walk or hike. There are numerous places to find winter fun less than an hour's drive from Putnam County."
Ward adds, "The Nature Park is an abandoned limestone quarry developed into a park setting with several miles of trails, a variety of habitats, bodies of water, cliffs and unpredictable terrain. There are trails around the top and bottom of the quarry, creekside and through beautiful wooded areas. Plenty of parking is available, and pets are welcome as long as they are on a leash."
Access the article, "Nearby nature spots offer winter fun," at the newspaper's Web site.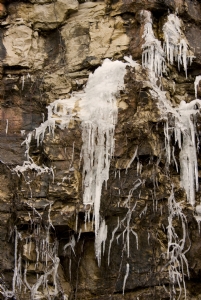 Announced in September 2003 and dedicated a year later, the DePauw University Nature Park covers 520 acres just west of the main campus. Its features include seven trails, a campground and canoe launch, an outdoor amphitheatre, research areas, the Janet Prindle Institute for Ethics, the Bartlett Reflection Center, the Ian and Mimi Rolland Welcome and Activities Center and the Manning Environmental Field Station. The Prindle Institute and Bartlett Reflection Center both received LEED® (Leadership in Energy and Environmental Design) Green Building Rating System Gold certification from the U.S. Green Building Council.
The DePauw Nature Park is open to the public from dawn to dusk, seven days a week. Camping is permitted only in designated areas and with authorization. For more information, visit the Nature Park online by clicking here.
Back