Vernon Jordan '57 Discusses Partisanship, Obama and Health Care in Florida Lecture
January 12, 2010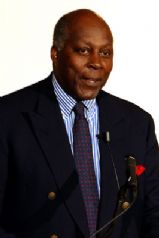 January 12, 2010, Greencastle, Ind. — "In a time when we need bi-partisanship, there has been none," Vernon Jordan said as he spoke to Vero Beach, Florida's Distinguished Lecturer Series yesterday. The legendary civil rights figure and 1957 graduate of DePauw University added, "I understand partisan politics, and truth be told, I enjoy them, but I remember when partisan politics stopped at the water's edge. But that has largely disappeared."
The Stuart News' Janet Begley writes, "Asked about the inauguration of Barack Obama to the office of president, Jordan called it 'unbelievable' and said in many ways, it was the culmination of his own life's work."
Jordan stated, "When the networks declared Barack Hussein Obama to be the president of the United States, tears rolled down my cheeks like the River of Babylon. I hope you can appreciate what election night 2008 meant to me." (at right: Jordan addressing DePauw's Class of 1993; May 22, 1993)
In his address, the former president of the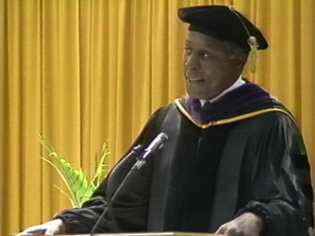 National Urban League and former adviser to President Clinton stated, "I think we're going to get health care, but I don't think the public option will be in it. I am hoping that it's going to have bi-partisan support."
Read the complete summary at the newspaper's Web site.
Last month, Vernon E. Jordan Jr. was one of eight individuals honored with the Du Bois Medal, the highest honor awarded by the Harvard University Institute of Politics' W.E.B. Du Bois Institute. The medal is presented to individuals whose work has made a significant contribution to African and African-American culture. Learn more in this article.
Back