Bill Hayes '47 and Dick Hyman Share 'Musical Magic'
December 26, 2009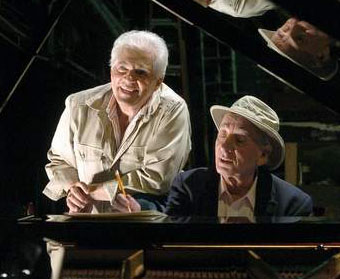 December 26, 2009, Greencastle, Ind. — "When they take the stage Tuesday night at the Golden Apple Dinner Theatre, singer Bill Hayes and pianist Dick Hyman will be marking a friendship that dates back more than 50 years," begins a story in Florida's Sarasota Herald-Tribune. Hayes, a longtime star of TV's Days of Our Lives and 1947 graduate of DePauw University, and Hyman, a noted composer and pianist, share the stage in "The Musical Magic of Hayes and Hyman," which continues through January 10 at the Golden Apple Dinner Theatre in Sarasota. (at left: Hayes and Hyman at the piano by E. Skylar Litherland)
Jay Handelman writes, "They first met when they were hired for a daily TV variety show in New York City in the mid-1950s hosted by noted radio announcer Norman Brokenshire. 'He was coming out of a semi-retirement in one of his earliest ventures in television,' Hyman recalled. 'Bill was the boy singer, Jet MacDonald was the girl singer and they decided to try me out as a musical director for this little show.' Even as their career paths diverged, they worked together over the years with Hyman playing on some of Hayes' recordings."
Career highlights for Bill Hayes "include his best-selling recording of The Ballad of Davy Crockett, roles on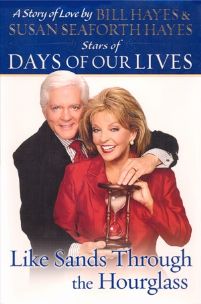 Broadway, Sid Caesar's Your Show of Shows and more than 28 years on the daytime soap Days of Our Lives," notes the newspaper. "Hayes said that earlier this month, he taped his 2,000th episode of Days of Our Lives, where he began playing Doug Williams in 1981 and met his wife, Susan Seaforth Hayes, who played Doug's wife, Julie. He appears occasionally on the show and his new episodes are scattered through the holidays into January."
Hyman, who composed the score for Moonstruck and more than 15 Woody Allen films, calls Hayes a "smooth-voiced and polished baritone. He has so much experience."
You'll find the complete text at the Herald-Tribune's Web site. Another piece appears in the Bradenton Herald.
Learn more about Bill Hayes, who co-authored the book Like Sands Through the Hourglass, in this previous story.
Back