Dave Borbely '81 Named Offensive Line Coach at Louisville
January 13, 2010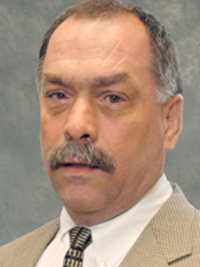 January 13, 2010, Greencastle, Ind. — Dave Borbely, a 1981 graduate of DePauw University, was today named offensive line coach for the University of Louisville football program. Borbely comes to the Cardinals from the University of Virginia, where he served as offensive line coach for the past four seasons.
"Dave is one of the most respected offensive line coaches in the country and I'm fortunate to have him as a member of our staff," says University of Louisville head football coach Charlie Strong. "Coach Borbely brings a lot of experience to our program."
The Louisville Courier-Journal notes, "Borbely also was the offensive line coach at Colorado for four seasons and has coached as Notre Dame, Stanford, Tulane, Temple and Rice. A native of Hammond, Ind., Borbely earned his bachelor of arts degree in history from DePauw (Ind.) University and a master of arts in secondary education from the University of Evansville in 1982. At DePauw, he earned four letters in football and twice was named the team's top lineman."

Read more at the newspaper's Web site or in the Cardinals' official announcement.
Also available is this previous article.
Back