LA Times Story on Leno/O'Brien Situation Quotes Prof. Jeff McCall '76
January 16, 2010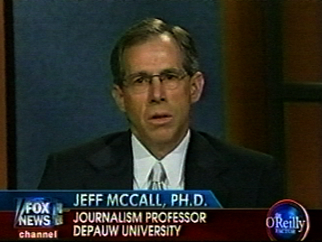 January 16, 2010, Greencastle, Ind. — "In moving Leno back to a time slot held by O'Brien, NBC effectively pitted the two hosts against each other and created a situation in which viewers were bound to take sides, said Jeffrey McCall, a communications professor at DePauw University in Indiana," notes today's Los Angeles Times. McCall, professor of communication and author of Viewer Discretion Advised: Taking Control of Mass Media Influences is quoted in a story examining the potential fallout of NBC's decision to move Jay Leno from 10 p.m. back to his previous 11:35 p.m. slot, leaving the future of the host whose show currently airs in that spot -- Conan O'Brien -- in doubt.
Scott Collins and Matea Gold write that

Leno's image is under fire ("the comedian who has painstakingly cultivated a 'Mr. Nice Guy' image has suddenly found himself cast as a villain and become a national punch line") from other TV hosts and bloggers.
Dr. McCall tells the Times, "Leno's image has been getting warped in public . . . from that of a fun-loving comedian to a guy who ends up looking like he has a more dark, selfish side. That can't be good
for someone whose gig is to make people laugh."
Access the complete article, "Taking on America's 'nice guy'," at the newspaper's Web site.
Jeff McCall is frequently called upon as an expert on media matters. The professor has been cited in articles published by approximately 100 newspapers. On Wednesday, stories by both the Christian Science Monitor and Medill News Service included analysis from the DePauw professor. McCall has also recently been in Advertising Age, USA Today, ABC News, Canada's National Post and the Dallas Morning News.
Source: Los Angeles Times
Back