Alumni Pay Tribute to Rev. Fred Lamar in St. Petersburg Times
January 17, 2010
Also: University Mourns the Passing of Former Chaplain Fred Lamar
January 17, 2010, Greencastle, Ind. — "As businessman Thomas Gregory watched Port-au-Prince crumble this week, he thought immediately of the Rev. Fred Lamar, his former professor at DePauw University, who organized mission trips to Third World countries, shocking students into the best experience of their lives," writes Andrew Meacham in today's St. Petersburg Times. "For Gregory, images of the dazed and injured in Haiti brought back 30-year-old memories from his month in Port-au-Prince."
A 1981 DePauw graduate, Gregory is now a St. Louis-based health care consultant. He tells the newspaper, "I'm watching these video feeds, and I'm thinking, 'I've got to contact Fred, and tell him just how much those trips meant to me.'"
As Meacham writes in his tribute, "Rev. Lamar, the spark plug that drove more than 2,000 students to Panama, Haiti, Guatemala, the Philippines and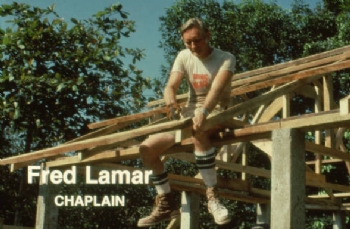 numerous other countries, died the next day, Wednesday, of a rare skin cancer." He was 76, and is beloved by countless DePauw students for his nearly quarter century of service (1974 to 1997) as the University's chaplain.
"Former DePauw students have contacted the Lamars in recent weeks, after word spread he was terminally ill," Meacham notes. "Among them was Scott Benhase, 52, who will later this month be consecrated the Episcopal bishop in the Diocese of Georgia. He remembers two funerals his first week in a Guatemalan village in 1977, both of children who had died of 'dysentery and very preventable diseases,' a stone's throw from corporate banana plantations that shipped produce to the United States and Europe."
Rev. Benhase, a 1979 graduate of DePauw, tells the newspaper, "Here I was a 19-year-old kid who came from a middle-class background and never had to
face that particular social dilemma and political problem. Fred didn't beat me over the head with any of that. He just said, 'Okay, what do you think about that?' He held up a mirror, and made us look at it. That forever changed me and many of my fellow students."
You'll find the complete piece at the Times' Web site.
Learn more about W. Fred Lamar in this article posted Thursday evening.
Back