Vernon Jordan '57 on President Obama's 'First Year'
January 18, 2010
January 18, 2010, Greencastle, Ind. — "Since he took office a year ago, President Barack Obama has made 'a good beginning under the worst of circumstances,' veteran civil rights leader Vernon Jordan said during an address Sunday at Watts Street Baptist Church," begins an article in North Carolina's Durham Herald-Sun. "Obama faces a long road ahead, with challenges in domestic and foreign policy, but Jordan said he expects Obama to 'move from campaigning and motivating to leading,'" writes Cliff Bellamy.
The story adds, "Jordan's sermon was titled 'The First Year,' and he delivered it in a resonant baritone to a packed church." In his address, the 1957 graduate of DePauw University "praised the Obama administration's bold action to stabilize the banks and the automobile industry, and for taking steps to reform national health care. But Jordan also addressed two developments that he said baffled him. He decried the lack of bipartisanship, in a time when it is needed to address energy, environmental and other issues. He took issue with politicians on the right who try to portray Obama as a socialist. Jordan also took issue with those on the left, many of whom supported Obama in his campaign but have abandoned him for his decision to send more troops to Afghanistan to defeat al-Qaida."
Jordan noted, "While I disagree with him on this, I have not deserted him."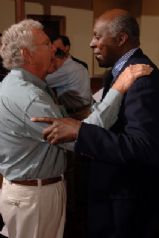 You'll find the complete summary at the newspaper's Web site.
Vernon E. Jordan Jr. is the former president of the National Urban League and served as an adviser to Presidents Clinton and Carter. Currently a director of Lazard Ltd. and Lazard Group and senior counsel at Akin Gump Strauss Hauer & Feld LLP, Jordan serves as an advisory member of DePauw's Board of Trustees.
Last Monday, he presented a speech for Vero Beach, Florida's Distinguished Lecturer Series, detailed in this article.
Last month, Jordan was one of eight individuals honored with the Du Bois Medal, the highest honor awarded by the Harvard University Institute of Politics' W.E.B. Du Bois Institute.
Back