Alan Hill '81 is Keynote Speaker at School's MLK Youth Summit
January 19, 2010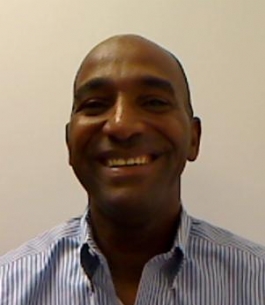 January 19, 2010, Greencastle, Ind. — "Regardless of what you do, academics has to be number one," Alan Hill told middle and high school students yesterday during a Martin Luther King Jr. Youth Summit at the Booker T. Washington Recreational Center in Terre Haute, Indiana. "You have to apply yourself," stressed Hill, vice president for enrollment and marketing at Franklin College and 1981 graduate of DePauw University.
Hill, a Terre Haute native, was the event's keynote speaker. He stated, "You can be the best football or basketball player or be the best dancer, or do all of those things, but you still have to study, to work hard to have that success. If you are the most talented athlete but don't have the grades to participate, what does it matter at the end of the day? You have to acknowledge that, hey, 'I have a brain up here that really works and it can really allow me to do a lot of things.' Strive for excellence." (at right: a 1981 newspaper clipping of Hill with head coach Nick Mourouzis after winning the Monon Bell Classic over #4-ranked Wabash College)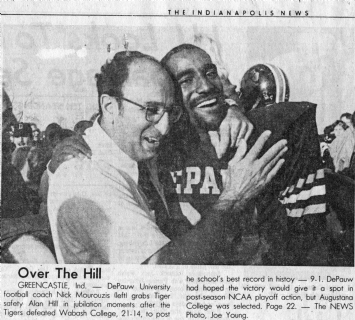 An article in today's Terre Haute Tribune-Star by Howard Greninger notes that, at DePauw, Hill "was a Division III NCAA national champion pole vaulter, clearing 16 feet 2 inches," and was a star receiver on the Tiger football team. After graduating, Hill was signed by the Dallas Cowboys and attended training camp. "I really don't like football, but because of God-given talent I was able to participate. Everything that you do doesn't mean you like it, but you work hard at it because it opens doors for you," he told the young students.
He declared, "Acknowledge your talents; never settle on just being average. You can learn something every day."
For the complete text, visit the newspaper online.
Back