Dallas Cowboys Sign Alan Hill '81 and Dave Finzer '82
May 16, 1982
May 16, 1982, Greencastle, Ind. — Two DePauw University football Tigers -- Alan Hill '81 and senior Dave Finzer -- have signed free agent contracts with the Dallas Cowboys. Hill, a 6'1", 175-pound safety, signed a series of three one-year contracts. Finzer, a 6'0" and 190-pound punter/placekicker, penned two one-year contracts. (at left: Hill; pictured below: Finzer)
Hill says, "If I make the team, I see myself playing defensive back and special teams and maybe a little receiver. I really enjoy special teams and think I can help out."
Hill, who graduated last spring but took graduate level courses this year and had a season of football eligibility left, was one of three Tigers to share the "Most Valuable Player" award for the 1981 season (quarterback Rob Doyle and receiver Kevin Perkins were the others). He was also a three-time All-American in track and field and was DePauw's first-ever national champion as the top pole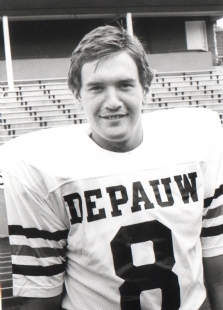 vaulter in 1981. Hill's four interceptions in one game (against St. Norbert on 9/5/81) is a school record.

Finzer chose the Cowboys over the Redskins, who were also negotiating for his services. "In Dallas, I'll have to go against Danny White, but the Cowboys don't want him punting," says Finzer, who kicked for the University of Illinois before transferring to DePauw. "They didn't draft a punter and they said I was their first choice to replace White as a punter. It feels great to be a Cowboy, and I'm glad it's over; I've been waiting since November for this."
Finzer was fourth among NCAA Division III punters last season with an average of 40.6 yards per kick. He holds the DePauw single-game punting record with a 48.5 yard average (minimum 5 punts) and also booted a school record 52-yard field goal for the Tigers.
DePauw's 1981 team won a school record nine games, including a 21-14 triumph over Wabash College -- which entered the contest ranked #4 in the nation -- in the season finale. The Tigers finished the season ranked ninth in Division III polls, their highest ranking ever.
Back