William Clyde '78 Appointed VP & Provost at Manhattan College
January 20, 2010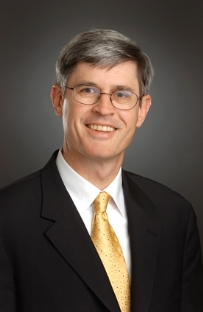 January 20, 2010, Greencastle, Ind. — William C. Clyde, a 1978 graduate of DePauw University, has been named executive vice president and provost of Manhattan College in Riverdale, New York, effective July 1. Dr. Clyde will come to his new post from Queens University in Charlotte, North Carolina, where he has served as vice president for academic affairs since 2007.
"Dr. Clyde brings to Manhattan an impressive depth and breadth of experience, a strong record of accomplishment as an educator and administrator, and a reputation for creative thinking in response to complex challenges," states Brennan O'Donnell, president of Manhattan College. "His dedication to mission is evident through his work in support of a broad program of community outreach, service-learning, and international development projects."
"I am excited and honored to be joining the Manhattan College community," says Clyde. The noble calling of the Lasallian heritage, the endless potential of the surrounding city, the tranquil setting of the campus, and the palpable devotion of the community combine to promise transformative experiences to all Manhattan College students. I truly believe this is the character and quality of education needed most desperately by our nation and our world."
Bill Clyde began his career as an investment officer at Harris Trust and Savings Bank in Chicago before becoming vice president of investments at First National Bank of Chicago (now part of JP
Morgan Chase), where he specialized in foreign exchange markets. He joined the faculty of Quinnipiac College (now Quinnipiac University) in 1990, and for seventeen years taught courses in financial management, corporate finance, and securities analysis, among other subjects, earning tenure there in 1995 and rising to the rank of full professor in 1998. From 1995 through 2007, he held a series of administrative appointments of increasing responsibility and complexity: program director, dean of academic technology, dean of the College of Professional Studies, and finally associate vice president for academic affairs.
An economics and chemistry major at DePauw, Clyde earned an M.S. in chemistry from New York University and a Ph.D. in economics from Edinburgh University in Scotland. He is the author of Using Technology in Teaching, published by Yale University Press in March 2005, as well as numerous academic papers, articles, and professional presentations.
Read more by clicking here.
Back