DePauw Defeats Trinity to Extend Win Streak to Six
January 23, 2010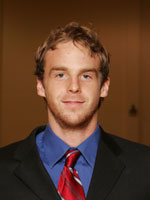 January 23, 2010, Greencastle, Ind. — Host DePauw shot a season-high 61.7 percent from the field and hit 13-of-20 three-pointers and captured an 87-72 Southern Collegiate Athletic Conference win over Trinity.
DePauw improved to 14-4 overall and 7-2 in the SCAC with its sixth straight win, while Trinity dropped to 6-11 overall and 3-6 in the conference. The win was also the Tigers' 20th straight at the Neal Fieldhouse.
Trinity had the hot hand early and took a 14-9 lead, but DePauw put together a 17-6 run to take a 26-20 advantage. The guests regained the lead later in the first half, but DePauw closed the half with a 9-2 stretch to take a 36-32 lead at the intermission.
DePauw briefly pushed the lead into double digits early in the second half, but Trinity pulled to within three at 62-59 on Peter Garatoni's three-point play with 7:12 left. The host Tigers hit six straight free throws before Steve Lemasters capped the 9-0 run with a three-point play to make it 71-59 with 4:07 remaining.
Trinity countered with a bucket, but DePauw's 11-2 run extended the lead to 82-63 and sealed the win.
Sean Haseley led DePauw with 19 points which matched a career high, while Tom Callen (pictured) and Lemasters each added 17. Callen's 17 was a season's best.
Lemasters and Haseley each knocked in four threes and Tommy Weakley added three. Callen, David Gray and Ryan Russell each hauled down four rebounds and Tony James dished out five assists.
Garatoni led Trinity with 17 points, while Luke Cadarera and Bryant Wilson followed with 11 apiece and Michael Tobolowsky added 10. Ryan Beall grabbed seven boards and dished out eight assists.
DePauw returns to action on Friday, January 29, at Austin College.
Follow DePauw Athletics on Twitter | Become a Fan of DePauw Athletics on Facebook
Back