Prof. Jeff McCall '76 Discusses Politicians' Use of Social Media to Make Announcements
January 25, 2010
January 25, 2010, Greencastle, Ind. — "The timing of Norm Coleman's revelation that he would not run for governor -- late last Sunday (January 17), just before a national holiday -- struck some as peculiar," begins a story in the Pioneer Press of St. Paul, Minnesota. "Jeffrey McCall, professor of media studies at DePauw University, has a possible explanation," writes the newspaper's Julio Ojeda-Zapat.
"Social media like Facebook or Twitter are good for announcements you want to keep low-key and fact-based," Dr. McCall says. "If Coleman had been announcing his gubernatorial candidacy, any Facebook announcement would surely have been accompanied by a public celebration and a press appearance."
The story notes that Scott Brown, who won the special election for Massachusetts' U.S. Senate seat last week, is another in a growing legion of politicians who use social media tools to reach supporters. According to McCall, that's "rhetorical symbolism that a politician is on the cutting edge of technology and up to date with current trends."
Access the article, "Politicians find a friend in Facebook," at the Pioneer Press' Web site.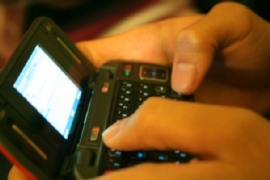 The author of author of Viewer Discretion Advised: Taking Control of Mass Media Influences and a 1976 graduate of DePauw, Jeff McCall is regularly quoted in some of the nation's largest media outlets. On January 16, he offered analysis to the Los Angeles Times on NBC's Jay Leno/Conan O'Brien dilemma. Three days before, stories by both the Christian Science Monitor and Medill News Service cited the DePauw professor. McCall has also recently been in reports by Advertising Age, USA Today, ABC News, Canada's National Post and the Dallas Morning News.
Back