2010 Relay For Life Set for April 24 & 25
January 26, 2010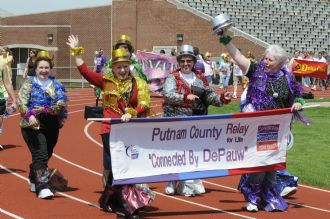 January 26, 2010, Greencastle, Ind. — "It's time to fight back against cancer," reports the Banner-Graphic of Greencastle. "The American Cancer Society Relay For Life of Putnam County has set the 2010 date for April 24 and 25 at DePauw University Blackstock Stadium. Relay For Life is ACS's signature event, dedicated to increasing awareness and raising funds to fight cancer."
DePauw senior Jon Leyh and Dick Shuck, director of business services for the University, are this year's co-chairs.
The DePauw-hosted Relay has won several awards for being among the best of its kind among American colleges and universities. The fundraiser was first held in 1996 and raised nearly $15,000. The total grew to approximately $20,000 by 1998, $30,000 by 1999, and $42,000 in 2000. Then, 2001 brought in $80,000; followed by $127,000 in 2002; more than $162,000 in 2003; 2004's $208,735; and a 2005 total of more than $230,000. The 2006 and 2007 Relays each raised approximately $220,000 for the cancer fight. The
recession kept donations to about $160,000 in both 2008 and 2009.
The newspaper story includes information on a cancer prevention study which Relay participants can take part in. Read more at the Banner-Graphic's Web site.
Register for the 2010 Relay by clicking here.
View a short video montage of the opening of the 2009 Relay at DePauw, produced by Ken Owen '82, executive director of media relations, here:

[Download Video: "2009 Relay Video" - 5704kb].
Back