Management Simulation Game
January 25, 2010
This year, two professors introduced a new course, Management Simulation Game, to DePauw's on-campus Winter Term program. It has the largest enrollment of Winter Term classes – 55 students – and is team-taught by Humberto Barreto, Elizabeth P. Allen Distinguished University Professor and professor of economics and management, and Michele T. Villinski, associate professor of economics and management.

Barreto, a former Wabash College professor, was also an integral part of OLAB, Opportunities to Learn About Business, a weeklong summer camp for high school students developed at Wabash in 1973. OLAB's creators wanted to demonstrate how markets really work, what competition is and what it means to run a business.

Barreto thought that Winter Term would be a great opportunity to adapt OLAB for college students. "The Management Simulation Game is a good format for a Winter Term class. There is a one-hour lecture, and then the students go off to work. They are active, and there is lots of involvement," Barreto says.

Students work in teams that represent competing businesses and play a game that includes many twists and turns along the way. "The game itself has remained virtually unchanged from its inception in OLAB," Barreto says. "Although, I think these students are more sophisticated and are, therefore, playing at a much higher level. Several teams have constructed elaborate spreadsheets to perform what-if analyses, and they are much more aware of the strategic interactions in the game."

The course provides insight into running a business and modern management techniques. Students learn to work together by managing inventory, prices and workers as well as finessing their way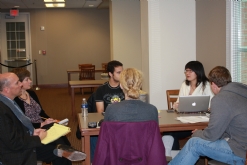 through a day of labor negotiations with guest union negotiators that included DePauw President Brian W. Casey.

There is a winning team at the end of the three-week Winter Term. However, the largest profit doesn't automatically put you in the winner's circle. In order to win, the team must demonstrate an understanding of how all the components of business fit together.

"The teams are selling an iPhone. The students can create features that may not be technically possible," Barreto says. "They have to think about possible product features, team name and logo." The students develop advertising campaigns and pitch them to a panel of judges and videotape a commercial for their product.

"Students learn that their actions do matter, but there are also other constraints on the market. It's a lot like reality. You are clearly aware of what your competitors are doing, and you're trying to outsmart them – and that's really fun," Barreto says.


Allison N. Jones '13 agrees. "This Winter Term course forces players to think about the impact of every decision their team makes as well as predict what other teams will do," Jones says. "It is a very strategic course, and I think it is a lot of fun!"

"I hope to become better acquainted with the inner workings of a business," Jones says. "I also want to learn what it is like to make important decisions and how they affect the company.

"I'm not sure who will win, but I think at this point we are doing really well," says Jones, an economics major. "We have made smart decisions so far.

"I have really enjoyed the guest speakers who have come in to talk to our class. Each has shared something different and given us some information about their specialty," Jones says. "We have learned a little bit about of lot of different areas of study in a very short time."

Guest speakers included Susan R. Wilson, professor of communication and theatre; Sharmin Spencer, assistant professor of psychology; Thomas H. Musser, professor of economics and management; Thomas E. Dixon, special adviser to DePauw President Casey; and Douglas D. Fellegy, ITAP digital video instructor.

"Michele and I serve as the game masters," Barreto says. "We have to teach the students that running a business and being involved in the corporate world is complicated, fun and unclear."

"We spend time answering questions and helping students manage it all," Villinski says. "They are learning some consumer psychology, marketing, basic accounting, business ethics and international business."

Drew G. Olson '11 chose the course because it's based on economics and is taught by one of his favorite professors – Barreto. Olson is a political science and economics double major.

"I think Winter Term is a more relaxed atmosphere for professors, allowing them to spend more time interacting with their students," Olson says. "I have talked with both professors about future internship and research opportunities."

"I'm excited about this course," Villinski says. "For me, it's also a chance to team-teach with Bert. For us, it's a little bit of an experiment."

"Team teaching is something that I did at Wabash and is something that I really love to do," Barreto says.

"I'm hoping that we can get more of our economics colleagues involved so we can offer this regularly," Villinski says. "There is an academic component plus interaction and team building that will be useful no matter what students go on to do. The skills they learn in this class will be useful in other classes. You always have to work with other people. Students can learn about who they are in a group setting and how they can interact productively with others."
To learn more about Professor Barreto's work in a previous story, click here.
To learn more about Professor Villinski's work in a previous story, click here.

Back